Puerto Vallarta, Jalisco, Mexico - We have found it astonishing how a tiny insect can cause so much misery and woe. Loss of sleep at night from real or imagined humming in the space around one's head or house can sound like a jet landing on the rooftop when one is tired and in need of rest.
Mosquitoes are not to be taken lightly when staying in the vicinity of the jungle in Puerto Vallarta. One chooses to holiday in paradise but one must realize there are often caveats in heaven. We can name very few but we are completely aware of the mosquito's existence being one of them. Besides robbing the contented of nightly respite from busy daytime activities, such as working one's tan and flagging down waiters for another margarita, these little menacing creatures have potential to do more than make one itch.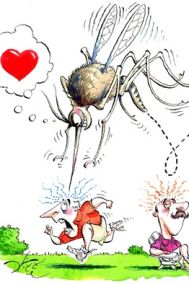 In the meantime, it's highly recommended that visitors spray ankles when venturing to the beach for sunset vistas. It's a particularly opportunistic time for feasting insects. There are many brands and varieties for preparation available in the local pharmacies in Puerto Vallarta, with and without the poisonous ingredient DEET. We are inclined to use the strongest repellant offered and recommend whatever the locals buy over the counter; remedies for local quandaries, DEET, or no DEET.
Breakfast on the terrace before the sun is at full tilt is also a good time to use added protection, and we insist on long sleeves, full length pants and closed-toed shoes for hiking through the thickets. Bites can be avoided. The pests are a part of daily living, especially during rainy months.
There is much discussion regarding the Zika virus but our research has revealed there is no immense cause for alarm in Puerto Vallarta. There have been very few cases reported in all of Mexico, one in the state of Jalisco, and it is undetermined if that person was stricken in Puerto Vallarta or elsewhere. All other cases are from Mexican nationals living in rural areas, far from popular tourist destinations.
Mosquito bites can, however, cause great discomfort, just as sunburn, and the two combined can ruin an otherwise splendid vacation in Vallarta. Our advice is to avoid both. According to what we have discovered, apply sunscreen first and then spray repellent to afford excellent protection.
Locals are known in the summer months to lather their bodies in an olive oil/garlic/lemon mixture, in which the insects simply drown or suffocate. Smelling like an Italian restaurant in Puerto Vallarta can be a draw for some but our preference is to use the tried and true products that can be purchased from any local pharmacy.
Que es cómo es.
---

Timothy Real Estate Group is a full-service real estate sales, rentals and development agency representing some of the most distinguished properties and developments across Puerto Vallarta, Bahía de Banderas and the Riviera Nayarit. For more information, visit TimothyRealEstateGroup.com.

Click HERE to learn more about Timothy Real Estate Group