Puerto Vallarta, Mexico - The seasons are changing and so are things at Daiquiri Dick's Restaurant. They are swinging into spring and summer with new hours and menus.
Starting on Wednesday, April 20, 2016, the restaurant will be open from 10:30 am until 10:30 pm every night except Tuesday. (Closed on Tuesdays from April to October.) You can enjoy breakfast, lunch, dinner, snacks and cocktails. This schedule is subject to change, so check out their Facebook page for updates.
In keeping with tradition, Daiquiri Dick's will be closed for the month of September for vacation and restaurant maintenance.
New menus, including: Breakfast/Lunch, Dinner, Speciality Cocktails, Dessert, Children's and a revised Wine List give you another reason to visit this sophisticated beachside restaurant, where you can enjoy dining on the terrace, patio, or right on the beach, all season long.
One of the best things about June in Vallarta is the return of Daiquiri Dick's Summer Sizzle. Through the end of August, the restaurant offers special a la carte menus that feature cuisines from around the world and change every two weeks. Each menu will feature a country or region, so you can take you taste buds on vacation - without ever leaving Puerto Vallarta!
Since live music has always been a part of the Daiquiri Dick's experience, this Spring and Summer, the restaurant presents a new schedule of exceptional entertainment that includes:
Fridays feature the hip Mediterranean guitar work of Moruno from 8 to 10 pm
Saturdays present Fusión with Jorge, Lenin and Enrique from 8 to 10 pm
Sunday brunch co-stars Jorge and Lenin, aka Fusión from 11:30 am to 1:30 pm
Sundays showcase Sunset Piano with Antonio
*This music schedule is subject to change.
Expanding upon the typical Puerto Vallarta restaurant experience, Daiquiri Dick's offers Happy Hour every day (except Tuesday) from 3 to 5 pm. Enjoy house margaritas and house daiquiris at a two-for-one price with a $100 peso purchase per person.
Offering exceptional food, drink, and live entertainment in an elegant beachfront setting, Daiquiri Dick's offers the perfect atmosphere for enjoying a sunny day, or a night out on the town, in beautiful Puerto Vallarta, Mexico.
Daiquiri Dick's - An Exceptional Experience
Open daily from 10:30 am to 10:30 pm, (Closed on Tuesdays from April to October) Daiquiri Dick's offers elegant dining in a relaxed atmosphere for breakfast, lunch or dinner. Visa, MasterCard and Banamex accepted. Reservations are recommended and can be made online at ddpv.com.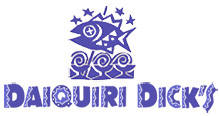 Daiquiri Dick's contemporary design exudes a quiet elegance that invites relaxation, and its tropical location at Olas Altas 314 on Los Muertos Beach offers the perfect atmosphere for enjoying spectacular views of Banderas Bay. For reservations call (322) 222-0566. For more information, visit DDPV.com.
Click HERE to read more about Daiquiri Dick's.