Puerto Vallarta, Mexico - Online real estate auctions make buying property quick and convenient. No standing on the steps of the county courthouse or packed into a hotel ballroom. You can bid at home, the office, even the airport as long as you have an Internet connection. Bidding can occur 24 hours a day over the course of days or weeks, instead of just a single day.
Online auctions also broaden the types of properties you can bid on. The steps for bidding in an online auction are similar to a live auction.
Find a property you like: With online auctions, you can search for and bid on properties all over the country. You can even bid on multiple properties at once.
Do your due diligence:
Many online auction sites provide information on the main property page, including maps, estimated market values and any liens. Be sure you read it all! It is also a good idea to conduct your own due diligence, and seek independent advice from a real estate broker, a real estate attorney, or even another experienced investor. Unlike live foreclosure sales, most homes sold in online auctions do have an agent commission (called "broker co-op"), which allows a real estate agent to get paid for their services.
Visit the property if you live nearby. The real estate agent may even offer open houses; if so, bring your contractor with you to help you assess what repairs might be needed.
Register for the auction: Most online auctions require you to register and submit a refundable deposit in the form of a credit card authorization. This simple process ensures that all bidders are serious and motivated.
Prepare your financing: To expedite the close if you win, start gathering the following documents before the auction:
• Proof of funds or financing information
• Entity Documents if you're bidding under a company name or entity such as an LLC, trust or limited partnership.
• An earnest money deposit which can vary and usually is based on a percentage of the total purchase price and is due one business day after the auction ends.
And if you're the winner? Be ready for things to move fast. The contracting department will contact you quickly and walk you through the online purchase and sale agreement, which shows the total purchase price and the timeline for submitting documents and payments. Make sure that escrow receives your documents and payments on time; otherwise, you could lose your earnest money deposit.
Be sure to look closely at the property page for each property you are planning to bid on. Many properties have what's called a "buyer's premium," which is the fee charged by the auction company for conducting the sale, from marketing through the closing. The amount can vary.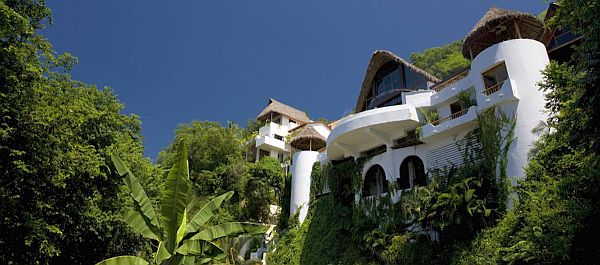 Casa Chickie Online Auction

If you are looking to buy property in Puerto Vallarta, consider bidding on Casa Chickie, a $3,500,000 USD estate property in the prestigious gated community of San Xoaquin on Vallarta's southern shores that is full of surprises.
Entering the breathtaking 3,000 square foot living room featuring one of the largest private palapas in Puerto Vallarta with massive views of the Pacific is just the beginning. Filled with beloved elements of Mexican architecture in over 15,000 square feet, this property was designed by a renowned international designer and is truly one of a kind.
The estate boasts gracious entertaining areas, vast terraces, two dining areas, spacious bar, infinity pool, fountains, chef's kitchen, four bedroom suites, a media room, large staff quarters and infrastructure for generous expansion of the home if desired.
Casa Chickie will sell at Auction with Online Bidding Only. Bids open on July 24th and concluding on July 29th at 4 pm CDT on AuctionNetwork.com. 2.5% Buyer Broker commission. A $100,000 USD online bid deposit will be required on this incredible property. Contact kathy.coats(at)williamsauction.com for deposit details.
Opening bid is $1,500,000 USD and Open Houses will be held to see this stunning Puerto Vallarta residence from 1:00 to 4:00 pm on July 9th, July 16th and July 23rd, and from 10:00 am to 4:00 pm on July 25th through July 29th.
For more information, contact Carl Timothy at carl(at)timothyrealestategroup.com, or (322) 223-5300.
---

Timothy Real Estate Group is a full-service real estate sales, rentals and development agency representing some of the most distinguished properties and developments across Puerto Vallarta, Bahía de Banderas and the Riviera Nayarit. For more information, visit TimothyRealEstateGroup.com.

Click HERE to learn more about Timothy Real Estate Group