Puerto Vallarta, Mexico - The temperatures are heating up and, with the return of their popular Summer Sizzle, so is the kitchen at Daiquiri Dick's Restaurant.
The Summer Sizzle menu will be changed every two weeks and the special will run through the end of August. The weekly theme could be a country like Argentina or Spain or a region like the Mediterranean or there could be a medley. Get ready to take your taste buds on a world tour without ever leaving Puerto Vallarta!
The first leg of the journey begins in Asia. For $350 pesos, you can choose one dish from each course on the 'Flavors of Asia' menu, which runs through June 30, or you can order your favorite appetizer, entrée or dessert a la carte.
Asian life and food is all about balance. Asia is a huge continent with many different cultures and each has its own way of cooking and recipes. Executive Chef Ignacio Uribe, Chef de Cuisine Hugo Mejia and Sous Chef Rogelio Garcia have developed some amazing dishes, and they will be serving them up from 5:00-10:30 pm.
Take some time to ponder these Asian food choices:
Appetizers
• Thai Spicy Calamari Salad with shallots, queen basil and mint
• Siu Mai with Pork and Shrimp, gingered soy sauce
• Mushroom Chicken Noodle Soup
Main Courses
• Steamed Huachinango with scallions, ginger and panchetta
• Thai BBQ Chicken Thighs over Spicy papaya Salad and coconut steamed rice
• Wok Fried Pad Thai Noodles with Shrimp, done up in traditional manner with dried shrimp, peanuts, tamarind sauce, eggs, takes you straight to the street of Bangkok
Desserts
• Coconut Crémè Brûlée
• Thai Fried Bananas with Ice Cream
The Flavors of Asia menu is not subject to any other discounts. The regular a la carte menu is also available.
The restaurant's tropical location on Los Muertos Beach offers the perfect atmosphere for enjoying light fare, cold drinks and cool breezes during the hot summer season, and the Summer Sizzle keeps the menu interesting.
Daiquiri Dick's: An Exceptional Experience
Open daily from 10:30 am to 10:30 pm, (Closed on Tuesdays through October) Daiquiri Dick's offers elegant dining in a relaxed atmosphere for breakfast, lunch or dinner. Visa, MasterCard and Banamex accepted. Reservations are recommended and can be made online at ddpv.com.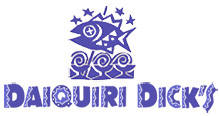 Daiquiri Dick's contemporary design exudes a quiet elegance that invites relaxation, and its tropical location at Olas Altas 314 on Los Muertos Beach offers the perfect atmosphere for enjoying spectacular views of Banderas Bay. For reservations call (322) 222-0566. For more information, visit DDPV.com.
Click HERE to read more about Daiquiri Dick's.