New York - Less than two weeks before the US presidential election in November, a powerful self-portrait by Frida Kahlo standing astride the US-Mexico border will go on view at the Philadelphia Museum of Art. Part of the exhibition Paint the Revolution: Mexican Modernism 1910-1950 (25 October-8 January 2017), co-organized with the Museo del Palacio de Bellas Artes in Mexico City, the work could be seen as a timely witness to the anti-immigration rhetoric of politicians such as Donald Trump, who said during his campaign that he will force Mexico to build a border wall.
Made when she was just 25 years old, Self-Portrait on the Borderline Between Mexico and the United States (1932) shows a defiant Kahlo in a pink dress holding a Mexican flag in one hand and a cigarette in the other. She stands on the pedestal between an industrial American landscape of skyscrapers and factory smokestacks (marked "Ford" and obscuring the US flag in a haze), and a Mexican desert of ancient ruins, Mesoamerican objects, native plants and a skull. The two countries' shared roots are treated with similar irony, with plants reaching deep into the soil on the Mexican side and electric wires dangling into the dirt north of the border.
Kahlo in Detroit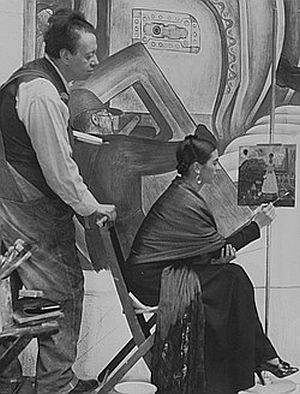 Frida & Diego in Detroit (Spencer Throckmorton Collection, New York, and Detroit Institute of Art)
Kahlo painted the work in the US, while her husband Diego Rivera was finishing an ambitious mural project at the Detroit Institute of Arts. She had just suffered a miscarriage, and longed to return to Mexico. While Rivera continued to chase success in the US with new commissions for murals across the country, Kahlo was distressed by what she saw in North America.
The roots of her anti-capitalist sentiments are somewhat explained in an introductory catalogue entry by the curator Matthew Affron, who notes that Mexico's 1917 Constitution was a crucial influence on the country's artists in the early 20th century. "That document - still in effect today - affirmed national ownership of natural resources, a progressive labor code, universal public primary education, and the separation of church and state," Affron writes.
The border painting is not Kahlo's only sour gaze toward the US in the show. The show in Philadelphia also includes My Dress Hangs There, a picture of a dress suspended against a jumbled background of images of American vulgarity and industrial waste. The painting is as grotesquely raw as any work by John Heartfield or Kurt Schwitters. She began it in 1933, when Rivera was at work on murals for New York's Rockefeller Center that were destroyed because Rivera insisted on including a portrait of Lenin.
Great Depression
Despite her wry take on the clash of cultures, Kahlo's self-portrait and the other 290-plus works in the Philadelphia show are a record of co-operation between the two countries during a difficult time, the Great Depression. Further underlining the continued links, Self-Portrait on the Borderline Between Mexico and the United States is now in the collection of Manuel and Maria Rodriguez de Reyero of New York, while My Dress Hangs There is owned by Femsa, the company that bottles Coca Cola in Mexico.
Can a Mexican painting - even one painted in the US - make a difference in US politics? Pennsylvania is a swing state, with a close balance between Democrats and Republicans, and Kahlo probably has a more predictable approval rating with American audiences than Donald Trump or Hillary Clinton. An exhibition of her work last year at the New York Botanical Garden in The Bronx attracted more than 525,000 visitors.
We will not know the reaction to Kahlo's work in an election year, nor what Trump will think of the artist, whose mother was mestiza (mixed race), and who often wore native Mexican dress. André Breton, the French poet and founder of Surrealism, had his own term for Kahlo's art: "a ribbon around a bomb."
Original article