Puerto Vallarta, Mexico - Many foodies consider French cuisine the haute couture of the culinary world. Don't miss your chance to sample some of this exquisite fare right here in Puerto Vallarta, as Daiquiri Dick's Restaurant features the Flavors of France on their Summer Sizzle special dinner menu through July 25, 2016.
The main features of French cuisine include using local, in season ingredients and cooking them perfectly and you'll find this tradition carried on at Daiquiri Dick's. Executive Chef Ignacio Uribe, Chef de Cuisine Hugo Mejia and Sous Chef Rogelio Garcia developed some amazing recipes, and are offering three courses for $350 pesos with choices for each course, or you can order these items a la carte. Here's a look at the Summer Sizzle Flavors of France menu, which is served from 5-10:30 pm
Appetizers
• Grilled Watermelon, Avocado and Cucumber Salad with Jalapeño Salsa
• French Onion Soup with veal stock, French Baguette Crouton and Gruyere
• Terrine of Chicken with Cornichon (think paté, but chunkier)
Main Courses
• Coq Au Vin - Braised Chicken with red wine and vegetables
• Fetucelle with Shrimp, Kale Pesto, Pecans, Anchovies, Lemon Zest and Parmesan Cheese
• Grilled Salmon with fresh tarragon cream sauce served over scalloped potatoes
Desserts
• Panna Cotta with Granita and Caramel Sauce
• Berry Crepes with Vanilla Ice Cream and Orange Liqueur Sauce
The Summer Sizzle Menu is not subject to any other discounts.
French cuisine has developed over centuries of social and economic change.
Up until 1789, when the Bastille was stormed, the majority of French citizens were poor farmers whose diets were based mainly on grains. In the decades that followed, an upper class emerged and believed good food was a mark of social standing. Even though high end cuisine was being served in the elite private homes, all was not well in the nation. During this time, 70 percent of French peasants still suffered poverty and malnutrition.
World War I heralded the beginning of modern French cuisine. Improved transportation during the first half of the 20th century spread the wealth and regional cuisine that had previously been segregated. Tourism came into high demand after World War II and furthered the need for grand cuisine at a fair price. Now anyone could saunter into a tavern or restaurant and have a substantial, elegant meal. Give your senses a treat today!
Daiquiri Dick's: An Exceptional Experience.
Open daily from 10:30 am to 10:30 pm, (Closed on Tuesdays through August and the month of September.) Daiquiri Dick's offers elegant dining in a relaxed atmosphere for breakfast, lunch or dinner. Visa, MasterCard and Banamex accepted. Reservations are recommended and can be made online at ddpv.com.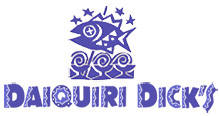 Daiquiri Dick's contemporary design exudes a quiet elegance that invites relaxation, and its tropical location at Olas Altas 314 on Los Muertos Beach offers the perfect atmosphere for enjoying spectacular views of Banderas Bay. For reservations call (322) 222-0566. For more information, visit DDPV.com.
Click HERE to read more about Daiquiri Dick's.