Puerto Vallarta, Mexico - You don't have to be an American to celebrate its Independence with great food and fun. Daiquiri Dick's chefs have created a special 4th of July - and beyond - menu that's a backyard BBQ with international flair.
The Summer Sizzle American Independence Day menu runs July 1 to 11, 2016. You can order three courses for $350 pesos, with choices for each course, or you can select your favorite appetizer, entrée or dessert a la carte.
Executive Chef Ignacio Uribe, Chef de Cuisine Hugo Mejia and Sous Chef Rogelio Garcia developed these amazing recipes, and dinner served from 5 to 10:30 pm.
Take some time to ponder these choices for this American celebration:
Appetizers
• Spinach Salad with grilled avocados and mangos
• Coconut Marinated Short Ribs with peanut-chili oil
• Grilled Baby Shrimp Toast with lemon and green olive tapenade
Main Courses
• Whole Grilled Huachinango with red and green sauces, rice and veggies
• Pork Chops Scottadito with charred cherry tomatoes, grilled sweet corn and zucchini
• Linguine with Shrimp and San Marzano Tomato Sauce, with fennel, celery, jalapeño, green onion and white wine
Desserts
• Watermelon Granita
• Daiquiri Dick's Best Strawberry Shortcake
This All-American menu is not subject to other discounts and the regular a la carte menu is also available.
The restaurant's tropical location on Los Muertos Beach offers the perfect atmosphere for enjoying light fare, cold drinks and cool breezes during the hot summer season, and the Summer Sizzle keeps the menu interesting.
Daiquiri Dick's: An Exceptional Experience
Open daily from 10:30 am to 10:30 pm, (Closed on Tuesdays through October) Daiquiri Dick's offers elegant dining in a relaxed atmosphere for breakfast, lunch or dinner. Visa, MasterCard and Banamex accepted. Reservations are recommended and can be made online at ddpv.com.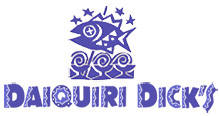 Daiquiri Dick's contemporary design exudes a quiet elegance that invites relaxation, and its tropical location at Olas Altas 314 on Los Muertos Beach offers the perfect atmosphere for enjoying spectacular views of Banderas Bay. For reservations call (322) 222-0566. For more information, visit DDPV.com.
Click HERE to read more about Daiquiri Dick's.