Puerto Vallarta, Mexico - Over one million expats live in Mexico, but that doesn't mean that they aren't interested in U.S. politics. The political circus is headed toward the grand finale and the first of the big top events is taking place at the end of September, and one Puerto Vallarta restaurant is joining in the fun.
Heckler's Delight (Words... The Best Words) will be a celebration of the first presidential debate. This extravaganza will take place at Taste Restaurant, which is part of the luxury boutique hotel Casa Cupula, Callejón de la Igualdad 129 in Colonia Amapas.
The big screen will be lowered on September 26, 2016, and the party will run from 7:30 to 9:30 pm. For $299 pesos you'll get a welcome cocktail, either the "Crooked Hillary" or a "Tangerine Tyrant," and you can graze at the "Chris Christie Never-Ending-Buffet," filled with finger foods including sliders, a taco station, mini pizzas, sushi, wings, a myriad of desserts and more. A full bar and coffee service will be also available.
"It is simply no fun to sit at home and yell at the screen," says Laura Gelezunas, event sponsor from Boardwalk Realty. "I thought it would be more fun to have a big party and Don Pickens, the owner of Casa Cupula and Taste, took it to the next level."
Taking part in the costume contest is a great way for those interested in expressing themselves - and the opportunity to win a free dinner for the best Hillary Pantsuit and Cheeto Jesus outfits. Hint: Don't forget your wigs!
According to 270towin.com, there are 11 competitive senate seats, Ohio, Florida, Arizona, Nevada, North Carolina, New Hampshire, Pennsylvania, Missouri, Illinois, Indiana and Wisconsin. Democrats need to carry five of those 11 seats in order to have control of the Senate (with potential Vice President Tim Kaine as the tie breaker). Organizers will take up a donation and split it up among the closest of these senate candidates to make it easy for you - and help turn the senate blue.
"Hecklers will delight in the many new improvements at Taste," says Don. "Chill with our air conditioning, enjoy a bigger video screen, eat at new outdoor furnishings, and sit under a motorized awning for rain and sun protection on the terrace. Meanwhile enjoy our new spectacular LED lighting of our local foliage."
Reservations are highly recommended because seating is limited. You can reserve you space by emailing Taste(at)CasaCupula.com. Think about car pooling or taking a taxi because parking is also limited.
Heckler's Delight is a great way to spend the evening and get to know other politically active people in Puerto Vallarta - or those who just want to have a good laugh.
---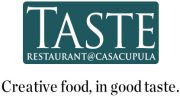 Taste at Casa Cupula is located at Callejon de la Igualdad #129 on the southern shores of Puerto Vallarta, Mexico. Whether for breakfast, lunch, dinner or a special event; discerning diners will appreciate our creative take on authentic Mexican Cuisine. For more information, visit Taste.com.mx. For reservations, click HERE, call (322) 223-2484 ext. 151 or email Taste(at)CasaCupula.com.

Click HERE to learn more about Taste.