Puerto Vallarta, Mexico - When can I retire? It's a though that crosses everyone's mind... sometimes as soon as we start our career! Starting a smart financial planning strategy early, including real estate investment, is the key to retiring early and securely, but what are the factors you need to keep in mind?
Number one on the list should be your sources of income:
• Social Security: Both the USA and Canadian government websites provide calculator tools to let you estimate what your social security benefits will be.
• Pension: Your company's HR department should be able to give you an estimate of whatever pension you may be receiving in the future.
• Other Income Sources: Income like rental from an investment property or a second business would fall into this category.
• Investments: Things like 401K savings for Americans or RRSPs for Canadians would be included in this income group.
Then of course you need to consider your expenses. Medical and insurance, monthly living costs, travel and lifestyle expenses; expenses can vary greatly depending on what you need and what you want from your retirement.
Another step that can get you closer to your dreams of early retirement is to choose a place where living costs are lower. This is one of the reasons why owning a second home or income-generating rental property in Mexico is such a popular option.
In cities like Los Cabos, Puerto Vallarta and San Miguel de Allende, the price of real estate is lower and the cost of living can be 45% to 65% less than in the retiree's country of origin. Add to that an incredible lifestyle, great climate and excellent health care, and there's no wonder that so many American and Canadian retirees are choosing Mexico over any other country in the world.
With MXN and USD home loans in Mexico now available through MEXLend, there has never been a better time to invest in your retirement lifestyle than by investing in Mexican real estate today.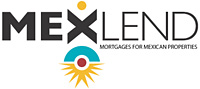 Are you looking to purchase vacation or investment property in Mexico? To discover which one of the many mortgage loan options that MEXLend offers is right for you, visit MexLend.com or MexLend.com.mx, call (322) 222-7377 in Vallarta, toll-free at 1.800.3.Mi.Casa in Mexico or (917) 779-9061 from the US or Canada.

To learn more about MEXlend, click HERE.