Puerto Vallarta, Mexico - There are a lot of things to take into account when thinking about retirement living. However, in terms of comfort and lifestyle, Mexico without a doubt takes the cake. There are many reasons why Mexico is a fantastic place to enjoy a laid back retirement lifestyle. Here are just a few:
The cost of living in Mexico is much lower than in its neighboring countries – the U.S. and Canada. With the American dollar sitting at around 18 pesos in value, the choice to retire in Mexico and invest in Mexican real estate is almost a no-brainer. It's not difficult to find a beautiful home in a fantastic location for a very affordable price. The weather also has a lot to do with a lower cost of living; with an abundance of warmth almost all year-round, the cost of utilities tends to be way lower than in the colder, northern countries.
This leads us to our next reason why retiring in Mexico is the way to go: the weather! There are many places in Mexico that enjoy year-round warm weather. Hot sunny days and cool nights and snow is virtually non-existent except for up in the mountains. The U.S. and Canada are neighbors and it's very affordable to visit any time, so why not live in paradise for the rest of the year?
Another fantastic reason to consider living in Mexico is the vast abundance of culture that is to be found all over the country. There are many different cultural regions to be explored. Everything from food, clothing, music, and dance are very unique to the country's many different states. This also contributes to an exciting expat lifestyle because it's very easy and affordable to travel around the country and explore the different regions.
It's not difficult to see why expats in Mexico are enjoying an incredible retirement. The cost of living, the incredible year-round weather, the culture, and many other contributing factors make the country one of the world's top retirement destination.
And, with MXN and USD home loans in Mexico now available through MEXLend, there has never been a better time to invest in your retirement lifestyle through the purchase of Mexican real estate.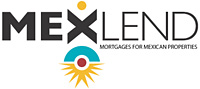 Are you looking to purchase vacation or investment property in Mexico? To discover which one of the many mortgage loan options that MEXLend offers is right for you, visit MexLend.com or MexLend.com.mx, call (322) 222-7377 in Vallarta, toll-free at 1.800.3.Mi.Casa in Mexico or (917) 779-9061 from the US or Canada.

To learn more about MEXlend, click HERE.