Puerto Vallarta, Mexico - Every year in November Mexicans celebrate 'El Día de Los Muertos' (The Day of the Dead) in honor of their deceased loves ones. The celebration is a connection between the earthly experience and the invisible realm, a reminder of where we all will return some day. It is a ritual of love and joyful remembrance.
For expatriates and tourists who did not grow up in Mexico, these rituals and practices might seem strange. The dead are allowed to "live" again during these days of the dead. People believe that the deceased return to their earthly homes to visit and enjoy their favorite food and drinks with their relatives and friends during this time of year.
Which makes it a great time to visit one of Puerto Vallarta's most popular Mexican restaurants - El Arrayán Cocina Tradicional. Owners Carmen Porras and Claudia Victoria are proud of Mexican traditions and the Day of the Dead is one of their favorites!
Since the restaurant opened in 2003, El Arrayán has been serving up traditional Mexican cuisine, and every year in October they prepare a special Día de Los Muertos menu that's "to die for."
Featuring traditional Day of the Dead ingredients such as pumpkin seed, corn, Mole Poblano, Tamales and Pan de Muerto, El Arrayán's special menu features innovative Mexican dishes made especially for this celebration - and you get to choose which ones you would like to try from the three different courses:
Appetizers
• Zikil-Pak: dip de pepita de calabaza (Toasted Pumkpin seed dip)
• Tlacoyos de haba con nopalitos, queso cotija (Corn masa pattie with butter beans, Nopal cactus, crumbly cheese)
Main Courses
• Mole de semillas de chile y ajonjolí con pollo, hecho en casa, arroz y frijoles refritos (Homemade pepper seeds-sesame Mole (mild), with chicken, rice and refried beans)
• Tamal de puerco o rajas con queso con salsa verde, frijoles de la olla y verduras (Pork or Poblano Pepper and Cheese Tamale, with whole black beans and vegetables)
Desserts
• Calabaza en Piloncillo y especias, helado de vainilla hecho en casa (Dark sugar and spice squash with homemade vanilla ice cream)
• Pan de Muerto y Atole del día (Día de Muertos sweet roll and that day's featured Atole - a traditional hot corn- and masa-based beverage)
Everyone at El Arrayán is looking forward to welcoming you and delighting your palate with the traditional Mexican flavors on their special Día de Los Muertos menu, which is being served through November 5 for just $285 pesos per person. (Price does not include beverages or tips.)
Space is limited, so make your reservations online at elarrayan.com.mx or via email arrayan.reservations(at)gmail.com. For same day reservations, please call (322) 222-7195.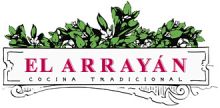 Located at #344 Allende, just a short stroll up from the Malécon in downtown Puerto Vallarta, El Arrayán is open Wednesday-Monday from 5:30 pm to 11 pm. (Closed on Tuesdays.) Visa, MasterCard and American Express Cards are accepted. Reservations online at ElArrayan.com.mx or by calling (322) 222-7195.

Click HERE to learn more about El Arrayán.