Puerto Vallarta, Mexico – Puerto Vallarta's newest fun evening event plans have been struck down by dengue fever. It is unlikely to be fatal – a relief, because there's only room for one death in the show - but a delay cannot be avoided, and the sneak previews of parts of the show must now take place on Thursday the 3rd and Friday the 4th November, instead of this week as planned.
No Way José! will be the venue for the weekly new murder mystery dinner theatre shows, and will host the previews. The first show, 'My Big Fat Mexican Murder,' was an immediate hit in Mazatlán when it began playing there in the 2014 high season.
While there are already a number of Puerto Vallarta theatre shows, this type of show is a first here, and the enormous popularity of the murder mystery dinner theatre genre in the United States and Canada strongly indicates that the show should be a wonderful addition to PV's entertainment scene. The previews are a great opportunity to test out the comedy and drama murder mystery genre, without paying full ticket price.
Come and join us next week. There is no cover charge for the show scenes, and you will have a great comedy afternoon, with the bonus availability of No Way José! renowned cocktails and consistently honored delicious contemporary Mexican cuisine at the well-situated No Way José! Restaurant in Colonia Emiliano Zapata.
When you book for one of those previews, let us know if you want to play a small role as a suspect. It's very easy, and wonderful fun.
Guests will mingle and drink with the cast in character, and writers/producers, and director, starting at 6:00 pm on both days. One of the writers, Bodie Kellogg, particularly looks forward to meeting new PV friends.
For preview bookings, gratis, either book your reservation online at NoWayJoseMx.com, via email at wendy(at)murderinmexico.com, or by calling 669-115-6748 to advise which evening and the number of people in your party.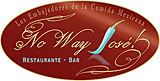 Open Tuesday through Sunday from 4:00-11:00 pm, No Way José! is located on the south side of downtown at 5 de Febrero 260, just over the Vallarta street bridge on your left heading south from the Malecón. Reservations are recommended and available by calling (322) 223-2853 or online at NoWayJoseMx.com. For more information, visit NoWayJoseMx.com, or join us on Facebook for real-time updates and special offers.

Click HERE to learn more about No Way José!