Puerto Vallarta, Mexico - No Way José!, La Colonia Emiliano Zapata's favorite award-winning Mexican contemporary restaurant, together with Bodie Kellogg and Murder in Mexico, presents the first murder mystery dinner theatre in Puerto Vallarta.
This new murder mystery dinner package, My Big Fat Mexican Murder, starting in early November 2016, presents a mix of audience-friendly participation, comedy, and drama, at which a murder takes place in a Mexican restaurant. Some of the restaurant guests are recognized to be suspects, and everybody is challenged to identify the murderer, the means, and the motive. But there is no need to wait until opening night to enjoy the fun.
A sneak preview - select scenes of the show - will be performed both Wednesday and Thursday, October 26th and 27th at No Way José! Join the cast in full dress rehearsal while enjoying cocktails and dinner starting at 6:00 pm on both days.
Enjoy your favorite No Way José! cocktails and dinner favorites while meeting the cast of My Big Fat Mexican Murder and get a sneak peak at the various scenes while you mingle and drink with the cast in character. Both writers of the show will be present, including writer Bodie Kellogg, who some will recognize as the author of amusing columns about expat life in Mexico featured in Mexico News Daily, and from time to time in the PV Mirror. The producers and cast welcome the opportunity to provide these preview windows into their strikingly funny and innovative show.
The show was first performed in Mazatlán in 2014, and received 5-star TripAdvisor reviews with comments like "Over the top? Yes... hilarious? Absolutely! I have attended many dinner theaters in the past, but can't say that I have ever had more fun," and "My husband and I very much enjoyed the performance. It was entertaining, laugh out loud funny, and well written."
Bodie Kellogg told us, "Our rehearsals are running beautifully and the actors can barely wait to perform. By doing free previews we can make an early and strong connection with people in Puerto Vallarta. Because the show is so interactive, previewing some scenes on the No Way José! Terrace marks a splendid approach for us to form a strong relationship with the guests before the show opens in November. It will be a perfect beginning for the production's new life in gorgeous and exhilarating Puerto Vallarta. Once the excitement of starting up My Big Fat Mexican Murder here settles a little, we will put on an additional, different, murder mystery dinner show as well, so that guests who loved My Big Fat Mexican Murder can come back to see our second show without having to wait. We love second timers, who become experienced in working through the myriad twists and turns of the mystery, and so are a great challenge to our actors."
"No Way José! continues our tradition of showcasing new talent in La Colonia Emiliano Zapata," shares Julie Guerrero. "We have been so lucky to present Spencer Day, Bohemia Viva, Latcho & Andrea, and our very own Alberto Mejia on the No Way José! Terrace, all who enjoy great success both here in Vallarta and in the United States. We have high hopes that My Big Fat Mexican Murder will be another successful NWJ! experience that our family of friends will enjoy. Dates and ticket prices will be announced soon. Your ticket will include a hilarious audience-participation murder mystery show, a 3-course meal, 2 cocktails, and gratuity."
Don't miss this chance to meet the actors in their dress rehearsals for My Big Fat Mexican Murder on either Wednesday or Thursday, October 26 or 27th at 6:00 pm. Make your dinner reservations now for the dress rehearsals by calling 223-2853, online at NoWayJoseMx.com, or by email to wendy(at)murderinmexico.com.
Stay tuned for dates and ticket prices for the full presentation of My Big Fat Mexican Murder dinner theatre package coming soon.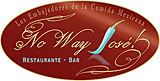 Open Tuesday through Sunday from 4:00-11:00 pm, No Way José! is located on the south side of downtown at 5 de Febrero 260, just over the Vallarta street bridge on your left heading south from the Malecón. Reservations are recommended and available by calling (322) 223-2853 or online at NoWayJoseMx.com. For more information, visit NoWayJoseMx.com, or join us on Facebook for real-time updates and special offers.

Click HERE to learn more about No Way José!