Puerto Vallarta, Mexico - There's always so much going on in Puerto Vallarta and around Banderas Bay, it can be difficult to keep up with it all. Here's a look at some of this week's Vallarta-Nayarit news headlines, community announcements and a couple of this weekend's events that you won't want to miss.
Cyclists Get Ready To Ride To Generate Awareness On The Road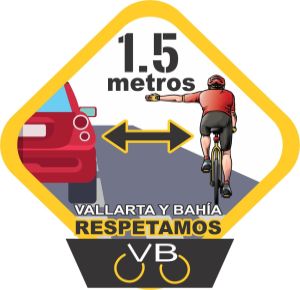 The "Colectivo Vallarta y Bahía por 1.5 metros," made up of all the cycling groups in the Banderas Bay area, has begun a permanent campaign to generate road awareness in the region. It will be launched with a massive ride programmed for Sunday, November 13, 2016. The community ride will begin at 8 am at the Plaza Lago Real in Nuevo Vallarta and will head out on Federal Highway 200 all the way to Los Arcos del Malecón in Puerto Vallarta, with a pit stop at the whales in Marina Vallarta at approximately 9:20 am. The invitation is open to anyone who enjoys riding their bicycles and agrees with the idea that all users of the roadways deserve to go about their business safely and respectfully. This social movement is mostly concerned with keeping the community informed and thus making and keeping the roads in Bahía de Banderas and Puerto Vallarta safe for local and visiting cyclists. The campaign prioritizes awareness in all the sectors, especially with automobile drivers and those who drive public transportation vehicles so they understand the importance of maintaining a minimum distance of 1 meter and 50 centimeters from a cyclist when passing them on the roadways. The campaign also includes other activities such as workshops in elementary schools, high schools and universities, communicating with truckers and creating proposals to improve the statutes included in the Traffic Laws. The 1.5m-minimum distance between a car and a cyclist is already part of the Mobility and Transport Act of the State of Jalisco and the Transit and Transportation Law of the State of Nayarit. For updates, join the
Vallarta y Bahía por 1.5 metros group on Facebook.
Winter Charity Events in The Riviera Nayarit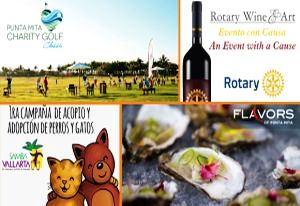 There are several charity events taking place in the Riviera Nayarit this winter that offer everyone the opportunity to enhance the lives of those who are in need of help. The Club Rotario Bahía de Banderas' 2016 'Rotary Wine & Art Event with a Cause' benefitting Casa de Bucerías Tercer Edad will take place at the Nuevo Vallarta Plaza Business Center on Saturday, November 12, 2016. The Punta de Mita Foundation's yearly 'Sunday With A Cause' is set for November 20, and includes the Punta Mita Charity Golf Classic on the Bahía Golf Course, and the Flavors of Punta Mita in the Altamira Lobby at the St. Regis Resort. Forty percent of all proceeds are earmarked for the Punta de Mita Foundation, forty percent will go to Peace Punta de Mita and the remaining twenty percent will be destined for the next Conservation Fund. For those who would like to adopt a new pet or donate food, medicine, clothing or toys for local animals, the Dogs For Life Association and Hotel Samba Vallarta will host their first annual 'Collection and Dog and Cat Adoption Campaign' at the Condominio Maestro Flamingos on December 10, 2016. For more details on all of these events, please visit
RivieraNayarit.com.
Mexico Tourism Board Marketing Program Targets UK Travelers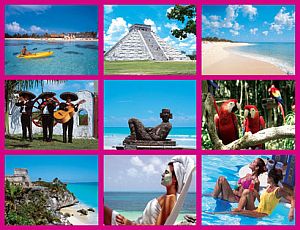 The Mexico Tourism Board recently announced its strategic marketing plans to deliver high growth in the UK market. Its efforts will focus on expanding connectivity; strengthening industry partnerships; developing tourism products and destinations; increasing special promotions, and consumer-targeting programs. The UK is the third largest market for Mexico's tourism industry, with over 475,000 visitors in 2015, marking a 10.4 percent increase on 2014. In the first nine months of 2016, there has been a 9.2 percent increase over the same period last year, firmly establishing it as a favorite destination of British travelers. The Mexico Tourism Board is aiming to continue this growing success and have set a goal of 830,000 UK visitors by 2021. In order to achieve this ambitious aim, a multi-faceted tourism development and promotion plan was unveiled this week during World Travel Market. Expanding Connectivity between the UK and Mexico A key focus is driving and strengthening air connectivity through expanding existing partnerships and targeting new gateway destinations. As of today, there are between 120 and 199 direct flights per month from airports across the UK to Mexico City, Cancun and Puerto Vallarta. Airlines include British Airways, Aeromexico, Thomas Cook, Virgin Atlantic and Thomson. Increased frequency as well as new routes to popular Mexican destinations on the Pacific coast are planned. Expanded products and promotion campaigns are also planned in the luxury, golf, weddings and romance, diving, nature, and MICE sectors. In each of these areas, partnerships with key destinations as well as UK travel operators will bring an ever-expanded portfolio of options to UK travelers.
Read more at MarketWatch.com.
Casa Yvonneka's Annual FUN-raiser for PV Animal Charities
Casa Yvonneka's annual FUN-raiser to benefit the animals of Puerto Vallarta will take place on Saturday, December 3rd at 7:00 pm. Tickets at $1600 Pesos. 100% proceeds will benefit various animal charities. There will be a gourmet dinner, open bar, live music, fireworks, silent auction and of course a breathtaking view of our beautiful Puerto Vallarta. This year, we will host a special Frida theme. Show us your BEST spirit of Frida Kahlo while you dance and dine under the stars. Don't miss one of Puerto Vallarta's most fun annual events, while helping our animal friends. There will only be 100 tickets sold, so get yours today at Galleria Dante, Basilio Badillo #269 on PV's south side, or by calling Matthias Vogt at (322) 222-4019.
Weekend Events in Puerto Vallarta and Around Banderas Bay
Click on titles for more information
• 11th Annual Puerto Vallarta I Madonnari Festival
• Huge Garage Sale to Benefit Purr Project, Nov 12-13
• Kaiser Maximilian Hosts 2 Festival Gourmet Chefs
• Avenue Q and 20th Century Crooners Open at Act II