Puerto Vallarta, Mexico - It will be an evening filled with great friends, excellent food, superb wine, and dramatic dancing. Join the staff at Daiquiri Dick's Restaurant for their special event, 'Tastes and Tango,' on November 17, 2016, starting at 7:00 pm.
The restaurant is celebrating its 44th year in Puerto Vallarta with style. They are offering a six course dinner and wine pairing menu for $100 USD per person, including gratuity.
Cava VinTango is located in Valle de Guadalupe in Baja, California and is the brainchild of vintner Jo Ann Knox-Martino, which began in 2009. She is a longtime area resident and a past graduate of Hugo D'Acosta's nearby La Escuelita, a reputable institute with a lengthy waiting list for new applicants, dedicated to teaching the science of enology. Her wines are featured on Daiquiri Dick's special menu.
The inspiration for VinTango is a 150 year old dance from Argentina, the tango. On this special night, a stunning performance by dancers Alberto Hurtado and Denise Rocha will make you swoon, and the impressive menu created by Executive Chef and Manager, Ignacio Uribe and Chef de Cuisine, Hugo Majia will dazzle your taste buds.
Daiquiri Dick's Tastes & Tango Menu
First Course
Scallop Carpaccio with Hand Cut Ginger-Chive Pesto
Paired with Sauvignon blanc or Sparkling wine
Second Course
Oven Roasted Beet Salad with Water Cress and Goat Cheese
Paired with VinTango Light Zinfandel - Amouse Bouche - Watermelon Mint Granita
Third Course
Grilled Octopus with a Garlic-Lemon Vinaigrette
Paired with VinTango Chardonnay
Fourth Course
Pistachio Romesco Crusted Rack of Lamb with Rosemary Potatoes & Lamb Jus
Paired with VinTango Light Zinfandel
Fifth Course
Prosciutto Wrapped Pork Tenderloin rolled in Fresh Herbs and served with Apple Chutney
Paired with VinTango Nebiolo
Sixth Course
Poached Pear on a Chipotle Truffle Fudge Pillow
Paired with VinTango Nebiolo
Space is limited, so please make your reservation for this impressive event by calling (322) 222-0566 or emailing daiquiridicks(at)gmail.com.
Open daily from 9 am to 11 pm, Daiquiri Dick's offers elegant dining in a relaxed atmosphere for breakfast, lunch or dinner. Visa, MasterCard and Banamex accepted. Reservations are recommended and can be made online at ddpv.com.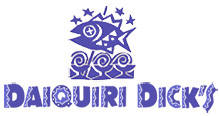 Daiquiri Dick's contemporary design exudes a quiet elegance that invites relaxation, and its tropical location at Olas Altas 314 on Los Muertos Beach offers the perfect atmosphere for enjoying spectacular views of Banderas Bay. For reservations call (322) 222-0566. For more information, visit DDPV.com.
Click HERE to read more about Daiquiri Dick's.