Puerto Vallarta, Mexico - There are those of us who enjoy the eating part of Thanksgiving more than the cooking part. If you don't feel like turning on the oven and heating up the house, especially in Puerto Vallarta, you can get your turkey fix at Daiquiri Dick's.
If you want to enjoy your day at home, place your order for Thanksgiving dinner to go. It is a complete meal that serves around 10 to 12 people and the cost is $2850 pesos.
Here's what it includes: • A Whole Roasted Turkey • Stuffing • Gravy • Cranberry Relish• Mashed Potatoes • Sweet Potatoes • Vegetables • Dinner Rolls
There is also the option of enjoying an individual dinner order to go and the cost is $325 pesos per plate. You will receive everything from the complete meal in just the right size for one. All packed in a ready-to-heat container.
To sweeten your dinner you can add a whole pumpkin or pecan pie for $400 pesos, which serves six to eight and they are also sold by slice for $90 pesos each.
The staff wants to make sure they bake enough turkeys, pies and all the fixings for everyone so your order and the 100 percent prepayment deadline is 6 pm on November 16, 2016. You will be able to pick up your to-go order between 12 and 2 pm on November 24, 2016, just check in at front desk.
You may also want to peruse our wine list and add a bottle to your order or maybe add our famous Margarita Linda, which can be purchased by the pitcher and done up to go.
If you want to go out on the town for a tropical Thanksgiving, Daiquiri Dick's has that option well covered. Executive Chef Ignacio Uribe, Chef Hugo Mejia and Sous Chef Rogelio Garcia have created superb specials for Thanksgiving dinner. The regular a la carte menu is also available and dinner is served from 5 pm to 11 pm. Reservations are recommended, please call 222-0566 to make sure you have a table.
Daiquiri Dick's Thanksgiving Menu
Appetizers
• Curried Pumpkin Soup with Apples
• Arugula Salad With Apples, Pomegranate, Jicama, Candied Pecans, mandarin vinaigrette
• Grilled Octopus with Cherry Tomato, Romaine and a garlic lemon dressing
Main Courses
• Traditional Turkey Dinner with all the Trimmings, homemade stuffing, mashed potatoes, sweet potatoes, cranberry relish and gravy
• Oven Roasted Prime Rib, grilled asparagus, rosemary new potatoes & horseradish sauce
• Spaghetti a la Marco Polo with Shrimp, Thai green curry and kaffir lime
Desserts
• Pumpkin Cheesecake
• Pumpkin Pie
Put down your apron and gather family and friends around a table filled with traditional turkey and not-so-traditional holiday food and enjoy a tropical Thanksgiving with assistance from Daiquiri Dick's. The restaurant is at Olas Altas 314 right on Puerto Vallarta's famous Los Muertos Beach and in the heart of Zona Romantica.
Daiquiri Dick's - An Exceptional Experience
Open daily from 9 am to 11 pm, Daiquiri Dick's offers elegant dining in a relaxed atmosphere for breakfast, lunch or dinner. Visa, MasterCard and Banamex accepted. Reservations are recommended and can be made online at ddpv.com.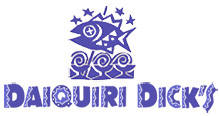 Daiquiri Dick's contemporary design exudes a quiet elegance that invites relaxation, and its tropical location at Olas Altas 314 on Los Muertos Beach offers the perfect atmosphere for enjoying spectacular views of Banderas Bay. For reservations call (322) 222-0566. For more information, visit DDPV.com.
Click HERE to read more about Daiquiri Dick's.