Puerto Vallarta, Mexico - Best friends can share a wonderful early afternoon at the 11th Annual Pet Picnic. The patio overlooking Banderas Bay at Daiquiri Dick's Restaurant always plays host to this event. Join the fun on Saturday, December 3th, starting at 11 am.
There will be a costume contest, raffle and other surprises. It will wrap up by 2 pm or a bit earlier. The costume contest starts at noon, so be prompt. Tickets are $350 in advance and $400 at the door. They can be bought at the restaurant, which is located on Los Muertos Beach at Olas Altas #314, on the South side of Puerto Vallarta.
"I simply cannot believe this is our eleventh year," says Laura Gelezunas, Event Organizer, "Daiquiri Dick's owner, Tari Bowman and I put this event together on a whim and hoped that people would show up with their dogs. The response has been overwhelming and there are people that have joined us every year. It is really amazing." The restaurant has always been pet friendly.
The price includes a boxed lunch with choice of sandwich, a doggie bag for your buddy and tip, but beverages are not included. This event has grown over the years, so get your tickets early. Last year there were around 40 dogs with about double that amount for humans. The Pet Picnic was the first event in Banderas Bay that included four-legged friends. It's worth seeing even if you do not have a dog. This is a great way to meet other animal lovers.
"I feel strongly that we need to support our animals, because they have no voice. We have to be their voice and we have to take care of them," says Helen Hartung, Animal Lover. "All they give is unconditional love."
All monies raised are donated to PEACE Animals. They conduct high volume, mobile, spay and neuter clinics for companion animals in Jalisco and Nayarit. This program is grass roots and reaches out to those that cannot afford to go to the vet and the service is free. They typically set up the clinic in colonias at homes, businesses or government buildings. The clinics run three and a half days and the vets have sterilized over 140 animals in that time frame. PEACE Animals operates on over 4000 companion animals per year. They have 501(c)(3) status in the United States with Banderas Bay Charities, Inc. (BBC Inc.)
The mobile spay and neuter clinics prevent unwanted births, and reduce the number of dogs and cats on the streets hit by cars, poisoned, diseased or starving. Spaying and neutering also reduces or can eliminate many health problems and injuries that are difficult and/or expensive to treat. Additionally, the amount of male dog and cat fights are radically reduced. Humans are less likely to be injured by cats and dogs and communities are cleaner and safer. Many animal shelters in Mexico are not operating due to a lack of government funds, even though shelters are required by law. Sterilizing companion animals helps reduce many issues.
If you are interested in donating directly to PEACE Animals or want more info, visit peaceanimals.org. You can also check our their blog for the latest clinic news.
The 11th Annual Pet Picnic promises to be another tail wagging event. Mark your calendar now, so you won't miss what promises to be a howling good time!
Open daily from 10:30 am to 10:30 pm, (Closed on Tuesdays from April to October) Daiquiri Dick's offers elegant dining in a relaxed atmosphere for breakfast, lunch or dinner. Visa, MasterCard and Banamex accepted. Reservations are recommended and can be made online at ddpv.com.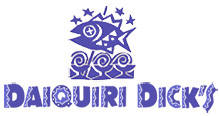 Daiquiri Dick's contemporary design exudes a quiet elegance that invites relaxation, and its tropical location at Olas Altas 314 on Los Muertos Beach offers the perfect atmosphere for enjoying spectacular views of Banderas Bay. For reservations call (322) 222-0566. For more information, visit DDPV.com.
Click HERE to read more about Daiquiri Dick's.