Puerto Vallarta, Mexico - So you have found your dream house in Mexico! Buying property in Mexico may seem a little daunting and different than in your country, but well worth it. The key word is different not better, not worse, just different...
With the experts at MEXLend, Mexico's premier mortgage broker, working in tandem with your real estate professional, you'll be amazed at how quickly you become comfortable with the process.
In many ways, purchasing real estate utilizing a financing option further protects your investment. U.S. and Canadian lending institution impose rigid documentation requirements for the sellers of Mexican properties, to ensure clear and clean title. You, the client, can rest assured with the knowledge that your weighty investment has been scrutinized by teams of experts and deemed a worthy transaction.
The following is a summary of some of the terms and professionals that will be involved in the acquisition, but remember, don't let these terms scare you... The MEXLend team and your real estate professional will be guiding the entire transaction.
Fideicomiso (Bank Trust)
This is perhaps the most misinterpreted aspect of purchasing property in Mexico. Historically, foreigners were denied the privilege of owning property in Mexico in the restricted zones. The restricted zones are the coastal areas and borders. However, realizing the benefits of foreign investment capital, the government of Mexico has found a way to make that easier - the
Fideicomiso
or Bank Trust.
Simply put, your property is placed in a Trust to be administered by a Mexican Bank on your behalf. The life of your Fideicomiso or Bank Trust is 50 years. You are in control of that Trust and it is willable, saleable, transferable and renewable. This is NOT A LEASE; it is a trust and acts the same as a Trust in the U.S. to protect your interests.
There is a fee (usually around $690 USD) or so to set up the Trust, and thereafter there is a yearly fee for the administrative costs.
Should the bank holding your trust be bought out by another institution or become insolvent, your trust will automatically be assigned to another banking institution. In other words, your trust IS NOT an asset of the Trust Bank; they are merely the stewards of the trust. For further information, see: The What and Why of the Mexican Real Estate Trust
Offer and Acceptance
Once you have identified a property that you wish to purchase, your real estate professional will draw up a contract of offer. Once the offer has been accepted, you will be required to make the contract official, and MEXLend will guide the opening of an escrow account with normally approximately 10% of the agreed upon purchase price.
Escrow Account
One of the most exciting developments for protection of both you and the seller has been the involvement of U.S. escrow companies in the process. It is from this stateside account that all disbursements will be issued towards you purchase. Lenders insist on utilizing escrow accounts. This protects both the buyer and the seller. Funds will be dispersed upon closing.
Notarios
A notary public in Mexico is a far more important personage than in the US. A notario is a lawyer that has passed stringent exams set forth by the Mexican government and is indeed, a government official. All business transactions including real estate sales must be officially registered and officiated by a notario. There are only a handful of notarios in each municipality, so they are very busy folks.
Should you get Title Insurance?
Some of the lending institutions that MEXLend represents insist on title insurance while others are comfortable with the due diligence of the appointed notarios. This is a decision that you, the client must make. A small amount of money, can buy a large amount of peace of mind. There are many U.S. title companies entering the Mexican market and MEXLend can recommend this company to you: Fidelity Title Insurance.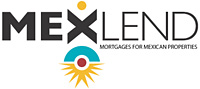 Are you looking to purchase vacation or investment property in Mexico? To discover which one of the many mortgage loan options that MEXLend offers is right for you, visit MexLend.com or MexLend.com.mx, call (322) 222-7377 in Vallarta, toll-free at 1.800.3.Mi.Casa in Mexico or (917) 779-9061 from the US or Canada.

To learn more about MEXlend, click HERE.