Puerto Vallarta, Mexico - A shy six year old blonde-haired girl tip-toed to her church's band stage and started plunking notes on the piano. Upon seeing this, her mother enrolled her in weekly private lessons for eight years.
At sixteen, she began teaching herself chords on her mom's classical nylon-stringed guitar and songs began to flow, giving this introvert a voice for expression and encouraged songwriting. In the past twenty years, Stolie has written more than 200 original songs, 100 of which appear on various solo albums, band projects and CDs for children.
Follow Me,
the new album from Chicago/Puerto Vallarta-based singer-songwriter, Rebecca 'Stolie' Stoelinga, will be officially released January 20 and follows the 2008 release of
Between The Fake and Real,
her third solo album and first collection of songs recorded in her home. Shortly after its release, Stolie shifted to performing for children as "Super Stolie," introducing three CDs of original music for kids.
Since her Chicago summers are filled with parks and library performances, street festivals and birthday parties, Stolie decided to venture south for the winter. This move led to a month-long stint learning Spanish in Guadalajara and then visiting Puerto Vallarta for the first time in February, 2015.
Stolie returned to Chicago and started making new plans. Over the course of the summer, Stolie wrote to venues in the Bahía de Banderas area. Upon arrival, she sought places to share her talent. This proved to work great and by March, 2016, Stolie was performing about six times a week, at Que?Pasa, El Patio de Mi Casa, Breakers Bucerías, Murphy's Bar & El Rio BBQ.
This season, she teamed with new friend Brittany Kingery of Bucerías and together they produced Simon and Girlfunkel, a tribute by the two artists to the songbook of Simon and Garfunkel, in The Red Room Cabaret at Act II Stages.
The delighted, positive response to her stylings made Stolie realize two things: she loves performing and she needed her mature songs appreciated. Now, nearly nine years after the release of her last album for adults, Stolie returned to her inner being and is overjoyed to introduce a new collection of songs.
"Follow Me" was inspired by her journey from Chicago to Mexico, where she has found new friends, new songs and a love for her second language. It represents Stolie's travel through time and life and love.
Most of the songs were recorded in her condo in Chicago in September, 2016. "Butterflies" was the first song Stolie wrote after coming to Puerto Vallarta last fall for her first winter here. It references the gut feeling you get at the start of a new romantic relationship, and the sentiment became a theme for her season in Mexico.
Stolie would learn that the monarch butterflies, much like many of the "snowbirds" to Puerto Vallarta, escape the frigid temperatures of the north in the fall and head to Mexico to hibernate for the winter. It is here they find love, friendship and rejuvenation.
The oldest song on the album, "A Special Boy Like You," was written in 1998 and delivers hopeless romantic sentiment of a 50's doo wop ballad. It has been used as the first dance song at a wedding. Almost 20 years later, Stolie has never been married herself, and her ebbs and flows through relationships are reflected in her various songs on the topic of love and romance.
"Poor Boys (Tequila Lips)";
"Where's the perfect guy? They say he don't exist!
If he did he's made of chocolate, with tequila lips.
The perfect guy — just imagine that!
Perhaps a poor boy is the richest thing that I'll ever have."
The tongue-in-cheek tune finds a girl realizing the quality of deadbeats she keeps attracting and then admitting that they might not be that bad. It was not until recording vocals in the closet of her spare bedroom that Stolie decided to add three-part harmonies and a vocal mouth trumpet solo. The song took on an Andrews Sisters pop/jazz/swing and has become a favorite song on the album.
Before she started recording it, Stolie spent two weeks in August, 2016 in Southern California, finalizing lyrics for songs that would be included on the album, but the recording bug hit her before she left. Stolie started tracking the guitar parts for "Abracadabra" the second song on the new album. She sat at a baby grand piano and started writing a piano part for the song, added percussion, hand claps, laid down the lead vocal, then made up harmony parts and a whisper echo in the chorus.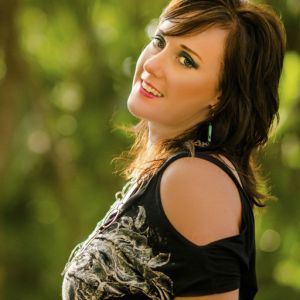 "The recording process is so different from performing live and I love them both for different reasons. Obviously, the live setting allows me to be improvisational, which I love, changing up songs and also feeding off the audience's energy. That's my extrovert. On the other end of it is the introvert, stuck in my headphones and arranging a song as I record it, coming up with harmony parts and doing eighty takes to get it just right. In the same fashion, she labored on melody lines of the melodica (the hand held piano you blow into, featured on "I Wanna Sing It.")
In addition to piano, guitar and melodica, Stolie has also learned to play ukulele, bass, banjo, mandolin, all kinds of percussion instruments, djembe and cajon (hand drums) and harmonica, all heard on her new album.
"Follow Me" is available now for digital download at stolie.bandcamp.com, where you can pay $8.00 USD or more to support the artist. The music will be available from all other online distributors on January 20, 2017 (Apple Music, Spotify, Pandora, etc.)
To celebrate the release of "Follow Me," Stolie will host several CD Release Shows and Parties. The first show will be at 7 pm on Saturday January 28, 2017 at Puerto Vallarta's brand new theater, Incanto, located on Insurgentes and the Rio Cuale in South side.
As heard regularly playing an array of covers at various venues, Stolie wanted to find a unique space for this special night and Incanto's was the choice. Tickets are 400 pesos (450 for priority seating) and include a copy of Stolie's new CD (or a download code) as a gift to you for sharing this special evening.
To present the recorded songs in a fuller live format, Stolie will be joined by Sheila Tequila on upright bass and Tomás Muracciole on percussion.
Sheila hails from a small town near Chicago, but moved to Puerto Vallarta four years ago. In high school, she was named the best upright bass player in the state and went on to study music at the University of Wisconsin. After another degree in electronics and working in Aerospace for thirty years, she retired here and can be heard every Thursday at Nacho Daddy with the swing band, Cat Daddy. Also, she plays drums and piano.
Tomás comes from Buenos Aires, Argentina and has been living in Puerto Vallarta for almost two years. He is a multi-faceted artist, working as a painter, muralist and most prominently as an amber sculptor. His original work can be seen around town or on his website. Tomás joined Stolie last year at El Patio de Mi Casa and Que?Pasa.
Throughout the show, the theater will be dazzled with video lighting effects created and queued by Lee Perry, a veteran video game designer who moved here with his family in the spring, 2016.
Along with the live band showcase of Stolie's songs and stunning visual effects, the show will offer music video interludes, artistic performance art and sweet giveaways. You'll be surprised by some fun, interactive moments throughout the show as you sing and laugh along, getting to know the insider scoop to the songs' lyrics and creation.
By show's end, Stolie hopes you will have a deeper appreciation for the artistry of song craft and enjoy the excitement of its presentation to a live audience. This show is sure to sell out quickly, so Click HERE to get your tickets TODAY!
Another CD Release Show (with band) will be held on Saturday, February 4 from 7-10 pm at Oasis by the River in Yelapa.
To learn more about Stolie and her music, visit stolie.com or contact her at stolie(at)stolie.com.