Puerto Vallarta, Mexico - The internationally inspired menu at Daiquiri Dick's is adding even more flare by having a weekly special a la carte dinner menu in addition to their regular menu. This time it is a variety of World Flavors. The menu runs from January 1 to 15, 2017.
Executive Chef Ignacio Uribe, Chef de Cuisine Hugo Mejia and Sous Chef Rogelio Garcia have created dishes with authentic flavors but with new twists.
This a la carte menu is featured along with the regular menu, and dinner is served from 5:00 to 11:00 pm.
Daiquiri Dick's World Flavors Menu
Appetizers
• Scallop Carpaccio with hand cut ginger-chive pesto
• Eggplant Casserole with Parmesan cheese, anchovies, fresh basil, white cheddar and tomato sauce
• Charred Tomatillo Soup with Parmesan Cheese
Main Courses
• Bacon wrapped Pork Tenderloin with Apple Cider Beurre Blanc served with caramelized apple and purée of carrot
• Napoleon of Grilled White Fish and San Blas Shrimp with grilled red bell pepper, zucchini, spinach and saffron sauce
• Fussili with Shrimp, Goat Cheese, cherry tomato and fresh basil
Desserts
• Chocolate Tartlet with Almonds
• Young Coconut Crème Brûlée
You can make reservations by calling 222-0566.
Enjoy a super sunset, excellent meal and superior service at Daiquiri Dick's, where every meal is An Exceptional Experience.
For an evening at home, cocktail hour on your balcony, or picnic lunches for a trip, ask about our line of take-out sandwiches, hors d'oeuvres, breads and pastries.
Open daily from 9 am to 11 pm, Daiquiri Dick's offers elegant dining in a relaxed atmosphere for breakfast, lunch or dinner. Visa, MasterCard and Banamex accepted. Reservations are recommended and can be made online at ddpv.com.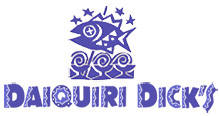 Daiquiri Dick's contemporary design exudes a quiet elegance that invites relaxation, and its tropical location at Olas Altas 314 on Los Muertos Beach offers the perfect atmosphere for enjoying spectacular views of Banderas Bay. For reservations call (322) 222-0566. For more information, visit DDPV.com.
Click HERE to read more about Daiquiri Dick's.