Puerto Vallarta, Jalisco - Mexico is a country that is internationally recognized for the beauty of its exuberant beaches. With more than 400 beaches distributed over thousands of kilometers on two different oceans, this country offers a great diversity of landscapes, species, and natural wonders.
This makes Mexico one of the best countries to live in. The Mexican territory has many cities in the center, but there are also many options in the beaches, places in which the standard of living is very high for various reasons that will surely make you think about moving to Mexico.
The Benefits of Moving to the Beach
Being at ocean level is good for your health. It improves circulation and arterial pressure, which helps to diminish the possibilities of suffering heart illnesses, apart from providing you with more oxygen than more elevated places. Another beneficial factor for the health is the skin's hydration, although you should be careful with exposure to the sunlight and it is recommended to use sun protection.
When it comes to food, beach cities always have the advantage of providing fresh food that comes from the sea. Seafood is very healthy and you can choose from the great variety that's available.
Another important factor is the weather. In general, Mexico offers a privileged climate, because its winters are not as cold in comparison with many other countries. Of course, the country's beach areas are the most desirable, as they offer an agreeable climate almost all year long, including the rainy season.
Living at the beach will also provide you with the opportunity to practice a lot of outdoor activities of every kind. Whether you like extreme sports or to simply admire the beauty of nature, a walk on the beach, surfing, swimming in the ocean, or going for a ride in a boat, the options are as broad as your tastes.
The main cities in Mexico are found far from the beach, but the country boasts many beautiful coastal towns where you don't have to battle with traffic, contamination, and overpopulation, but can still enjoy the privileges, luxuries, and services of a great city.
And, finally, getting to know new people. Mexico's beaches are touristic places where you will always have the opportunity to meet new people from all over the world.
MEXLend represents a variety of lenders offering different loan options for foreign buyers looking to purchase vacation or investment property throughout Mexico. Contact the experts at Mexico's leading residential mortgage broker today and make your dream of living on a beach a reality.
Click HERE to learn more about home loans in Mexico with MEXLend.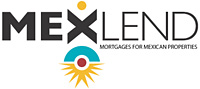 Are you looking to purchase vacation or investment property in Mexico? To discover which one of the many mortgage loan options that MEXLend offers is right for you, visit MexLend.com or MexLend.com.mx, call (322) 222-7377 in Vallarta, toll-free at 1.800.3.Mi.Casa in Mexico or (917) 779-9061 from the US or Canada.

To learn more about MEXlend, click HERE.