Puerto Vallarta, Mexico - Do you have your Easter bonnet ready? If not, you'd better HOP TO IT! Casa Cupula's Easter Bonnet Party and Brunch is becoming an annual tradition in Puerto Vallarta, and the fourth edition is scheduled to take place at Taste Restaurant on Sunday, April 16 from 10 am to 4 pm.
To celebrate the occasion, Taste Restaurant @ Casa Cupula will be serving up a Special Easter Sunday Brunch that features all you can eat goodies plus 1 Mimosa or 1 Bloody Mary for only $399 pesos. Come wearing a bonnet and enjoy a $100 pesos discount!
This year's Easter Bonnet Brunch will be a fundraiser for SETAC, the LGBT community center of Puerto Vallarta. Bringing the tools of education and prevention of HIV directly to residents and visitors is the purpose of SETAC, and this event will raise funds for a cause that is important to the community: prevention of HIV/AIDS through the distribution of the PrEP (Pre-Exposure Prophylaxis) pill.
To help
SETAC bring this powerful HIV prevention tool
to the greater Banderas Bay area, a $100 peso donation will be requested at the door, and Casa Cupula owner Don Pickens will donate half of all proceeds from the 2017 Easter Bonnet Brunch to this very worthy cause. If you cannot attend the brunch, please visit
gofundme.com/PrEPinPV
to donate today.
PV's infamous 'Dueling Drag Divas,' Emmy Award Winner Chi Chi Rones and NY Times Acclaimed Impressionist, Jo Anna, will emcee this year's festivities, which includes an Easter Bonnet contest with $5,000 pesos in cash and prizes to be awarded to the winners of the following categories:
• Most original
• Most fabulous
• Best theme
There will be fabulous prizes for the winner of each category. Of course, one might choose to compete in all three categories, most fabulous, most original and best theme with just one hat.
Some say that size matters, but a good theme can easily win the hearts and minds of Bonnet lovers. For example, one can stick with a traditional Bunny theme. Other Easter themes might include eggs, or chicks, or even a religious theme.
A simple floral Bonnet is always in style, and easy to prepare. Just get fresh flowers, a lovely hat, and a glue gun and you're set to go. And nothing can help cure that Semana Santa hangover like the smell of fresh flowers on Easter afternoon.
Contest registration closes at 12 pm and judging starts at 1 pm.
Men, women, straight, gay and everything in between are welcome, so get on it! Make your bonnets, and come out to Taste Restaurant @ Casa Cupula for an unforgettable Easter celebration!
Please visit Taste's Facebook Event Page for ongoing information. To book your table or RSVP for the contest, please contact your Casa Cupula Concierge at 322-223-2484 ext. 151 or by email at taste(at)casacupula.com.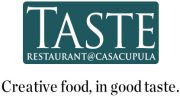 Open Wednesday through Saturday from 8:30 am to 5:00 pm for Breakfast and Lunch, and from 6 to 11 pm for Dinner, and on Sundays from 10 am to 3 pm, Taste at Casa Cupula is located at Callejon de la Igualdad #129 on the southern shores of Puerto Vallarta, Mexico. For more information, visit Taste.com.mx. For reservations, click HERE, call (322) 223-2484 ext. 151 or email taste(at)casacupula.com.

Click HERE to learn more about Taste.
---

The purpose of the SETAC Community Center, located at Rio Santiago #174 in the El Fluvial neighborhood of Puerto Vallarta, is to provide essential services to the community, including physical and mental health treatment, referrals, and education in an atmosphere of safety, free from discrimination. For more information, contact Paco Arjona at (322) 224-1974 or
paco(at)setac.com.mx.
Click HERE to learn more about Centro Comunitario SETAC.