For years, Puerto Vallarta, Mexico, has been a second home to United Airlines customer Jill Goldstein and her family, their annual beachside escape from the winters back home in Minneapolis. But last year Ms. Goldstein noticed something in her adopted city that troubled her – a significant increase in the abuse of the stray cats who live on the Rio Cuale Island in the heart of Puerto Vallarta.
"The island has been a dumping ground for the past 20 or 30 years, and people abandon their cats and dogs there," Ms. Goldstein said. "And some of the things that were happening to them are just too terrible to talk about. Recently, many of them were even poisoned," she added.
Heartbroken, Ms. Goldstein, who is the founder and executive director of
Pause 4 Paws
, a Minneapolis-based animal charity, knew that she had to do something. With the help of
Puro Gato
, a shelter in Puerto Vallarta, she decided to transport as many of the cats as she could to Minneapolis with the goal of finding homes for them.
The mission was dubbed "Gotta Getta Gato," but the logistics proved to be a challenge.
After speaking with other carriers and forwarders who were unable to help them, Ms. Goldstein's mother and father, Nancy and David, got in touch with United in Mexico. Fortunately, we had just the right solution for them – our PetSafe program, which is specially designed for just such movements.
Since March 1, a team of cargo and sales employees, both in the U.S. and in Mexico, has not only worked to secure space on board our aircraft for 60 cats, they have gone above and beyond to ensure that the feline passengers enjoy a comfortable journey, much to Ms. Goldstein's relief.
"Recently, some of the cats had to stay overnight in Houston before they could board a flight to Minneapolis," she said. "The Houston PetSafe employees checked on each one, making sure that they were eating and that they were okay. I was so grateful that they were able to put me at ease."
Operation Gotta Getta Gato is expected to wrap up by April 8, so as not to conflict with Minnesota's kitten season, when the local shelters will fill up. By that time, it's expected that we will have flown a total of 74 cats from Puerto Vallarta to Minnesota, where Pause 4 Paws partner Angel of Hope Rescue is providing veterinary care and adoption services.
"Your airline made this possible," Ms. Goldstein said. "It's my hope that, in a year from now, we can do this again."
For more information on Gotta Getta Gato and to donate to the ongoing project, please visit the Pause 4 Paws site HERE.
---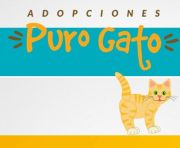 Protectora Puro Gato y Perro A.C.
was recently incorporated as a non-profit association, although in the 4 years prior to receiving AC status it functioned as a collaboration between many local and international volunteers. Founded by three Mexican citizens, this group has worked with the cats living on the Cuale River Island with the altruistic mission of promoting viable solutions - sterilization and adoption - in order to control the population. Puro Gato volunteers visit the island every morning and evening to feed the cats. When necessary, they provide medical treatment via certified veterinarians, who also administer anti-parasitics, flea medication, and vaccines. Puro Gato also has an adoption booth every Sunday from 5-8 pm at Plaza Caracol, and an international adoption program through the US-based 'Pause for Paws' organization. For more information, email
adopcionespurogato(at)hotmail.com,
or visit the
PuroGatoPV Facebook page.