Puerto Vallarta, Mexico - An exhibition by artist Bill Megrail opens at Galleria Dante on Friday, April 21st, as part of this season's last Southside Shuffle. Stop by the largest and most eclectic art gallery in Puerto Vallarta to meet the artists and enjoy complimentary cocktails from 6-10 pm.
Meet the Artist
"There is a handful of artists we highly respect, and Bill Megrail is one of those artists," says Galleria Dante owner, Joe Guarniere. "His long career and his talent speak for themselves, and he often exclaims 'My life has always been art!' Almost everything Bill does is enthusiastic."
A summer school arts program sparked his interest in art, which led to his liberation from a West Virginia coal mining town. "I always supported myself with my talent," Bill explains. After winning a scholarship to the New York School of Contemporary Art at the age of 17, he went on to earn a bachelor's degree in design at San Jose State University followed by graduate school in painting at San Francisco State University.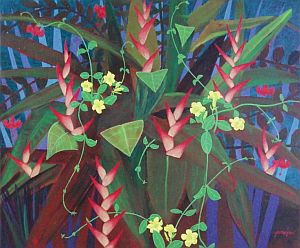 Although his career has morphed from interior design for commercial retailers to oil painting, remodeling homes and curating a museum, "It's all the same, putting objects in space beautifully... paying attention to color, form, composition," he says. Bill was very successful at commercial interior design for stores like Sak's Fifth Ave and Macy's until age 37. His inspiration is "totally from nature, anything from a home garden to the jungle." For Bill, painting is "meditation in action." It heightens your ability to see. Lush jungle settings with tropical plants, flowers and fruits, country landscapes occasionally dotted with livestock, and a few cityscapes all draw one into the paintings.
When Bill was in his 30's he came to Puerto Vallarta from San Francisco for the first time for a two-week vacation and stayed five months, later returning for good. He loved the weather and "in the 70's art was part of the (Vallarta) culture." He divided his time between San Miguel de Allende and Vallarta, later choosing our port city for good. "It was all about the art and its appreciation," he says. Since coming to the Puerto Vallarta area in the 70's he has become a well-known name in the Mexican art community.
And he's been supporting community arts programs ever since, like Puerto Vallarta's Cultural Center and the Peter Gray Art Museum, where he was curator for 5 years. Under his direction, the museum facilitated a community activity for local children who were given a tour, introduced to various forms of art through demonstrations, and then produced a painting of their own.
During his illustrious 30-plus year artistic career in Mexico, he has had showings at many galleries nationally, in the United States and London. His paintings have been printed in such publications as Mexicana Airline's "In-Flight" Magazine (2 covers) and the Insider's Guide to Mexico. In the 90's he was invited to Southeast Asia on an art buying trip as an advisor. In 2004, the town of Damburg, Holland invited Bill to participate in the International Painters' Week. He was also published in Architectural Digest December 2008 Exclusive Issue: Inside Private Homes. The client not only purchased many of Bill's paintings, they also commissioned him to do a large painting for a focal point in their Villa.
To Bill there was never any other kind of life. "If you're an artist, what else can you do? There's no choice. Anything else makes me absolutely insane. I can't go to business meetings. If nobody ever bought another painting, I'd still paint."
Bill Megrail has an unique vision of nature, which is reflected in his paintings. Certainly, his paintings combine peace and energy creating unforgettable images. Don't miss the opening night of an exhibit of his latest works on Friday, April 21st from 6-10 pm, as part of the last Southside Shuffle of the 2016-2017 season.
While you are there, be sure to check out Di Vino Dante Wine & Tapas Bar, a new addition to the old hacienda that houses Galleria Dante and the gallery's sculpture garden. This chic wine and tapas bar is open Monday through Saturday from 2:00 to 11:00 pm.

Open Mon-Fri from 10 am-5 pm, or by appointment during the Summer months, Galleria Dante is located at Basilio Badillo #269 in Puerto Vallarta's Romantic Zone. For more information, call (322) 222-2477, or send an email to info(at)galleriadante.com.

Click HERE to learn more about Galleria Dante.