Puerto Vallarta, Mexico - Asia is a huge continent with many different cultures and each has its own way of cooking. To get a taste of it all, you'd have to do a lot of traveling. Unless you happen to be in Puerto Vallarta, Mexico, where Daiquiri Dick's special a la carte menu will feature Asian recipes from April 19-30, 2017.
Executive Chef Ignacio Uribe, Chef de Cuisine Hugo Mejia and Sous Chef Rogelio Garcia have developed some amazing dishes that reflect the diversity of Asian cuisine, and they will be serving them up nightly from 5:00 to 11:00 pm.
Daiquiri Dick's Asian Specials Menu
Appetizers
• Salmon Cake with kaffir lime and jicama slaw and a ginger-peanut vinaigrette
• Spicy Calamari Salad with jicama and a garlicky~mint vinaigrette
• Pork and Shrimp Golden Purses, served with spicy sweet and sour dipping sauce
Entrées
• Grilled Fresh Tuna with Miso~Gochujang Glaze, served over steamed rice and spicy pickled napa cabbage (aka: Kimchi)
• Grilled Pork Loin in Panang Curry Sauce sweet and spicy red curry sauce with bell peppers, served over Jasmine rice
• Spicy Garlicky Rice Noodles with Cajun popcorn shrimp, green beans and carrots
Desserts
• Fried Wontons with bananas and vanilla ice cream
• Rice Pudding with fresh coconut
The restaurant's regular a la carte menu is also available.
Enjoy a sensational sunset, excellent meal and superior service at Daiquiri Dick's, where every meal is An Exceptional Experience.
For an evening at home, cocktail hour on your balcony, or picnic lunches for a trip, ask about our line of take-out sandwiches, hors d'oeuvres, breads and pastries.
Open daily from 9:00 am to 11:00 pm, (closed on Tuesdays from April 18 until October) Daiquiri Dick's offers elegant dining in a relaxed atmosphere for breakfast, lunch or dinner. Visa, MasterCard and Banamex accepted. Reservations are recommended and can be made online at ddpv.com.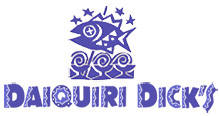 Daiquiri Dick's contemporary design exudes a quiet elegance that invites relaxation, and its tropical location at Olas Altas 314 on Los Muertos Beach offers the perfect atmosphere for enjoying spectacular views of Banderas Bay. For reservations call (322) 222-0566. For more information, visit DDPV.com.
Click HERE to read more about Daiquiri Dick's.