Puerto Vallarta, Mexico - Spring is here, Easter is just around the corner, and Daiquiri Dick's has a new Flavors of the World Menu! Through April 15, you can take your taste buds on a world tour - and you don't even have to leave Puerto Vallarta to do it!
Every two weeks there's a new selection of World Flavors. This time, Executive Chef Ignacio Uribe, Chef de Cuisine Hugo Mejia and Sous Chef Rogelio Garcia have created internationally inspired dishes with authentic flavors for their Easter Specials menu, which is being served from 5-11 pm through April 15.
Daiquiri Dick's Easter Specials
Appetizers
• Persian Flat bread (Nan-e Barbari) with Chickpea Hummus and olive oil
• Orzo Soup with Chicken, carrots, peas, white beans and celery
• Salad Wrap with Teriyaki Salmon and Arugula, wasabi and ginger soy dipping sauce
Main Courses
• Almond Romesco Marinated Catch of the Day with cranberries, served over sweet potato puree with mango chutney and grilled asparagus
• Spice Crusted Roast Rack of Lamb with coriander and mint sauce, served with oven roasted new potatoes
• Linguine with fresh San Blas Shrimp and mushroom Bolognese sauce
Desserts
• Honey Cake with Citrus Frosting
• Chocolate Crepes with vanilla ice cream
Enjoy a sensational sunset, excellent meal and superior service at Daiquiri Dick's, where every meal is An Exceptional Experience.
For an evening at home, cocktail hour on your balcony, or picnic lunches for a trip, ask about our line of take-out sandwiches, hors d'oeuvres, breads and pastries.
Open daily from 9 am to 11 pm, Daiquiri Dick's offers elegant dining in a relaxed atmosphere for breakfast, lunch or dinner. Visa, MasterCard and Banamex accepted. Reservations are recommended and can be made online at ddpv.com.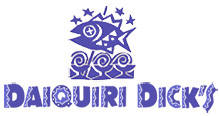 Daiquiri Dick's contemporary design exudes a quiet elegance that invites relaxation, and its tropical location at Olas Altas 314 on Los Muertos Beach offers the perfect atmosphere for enjoying spectacular views of Banderas Bay. For reservations call (322) 222-0566. For more information, visit DDPV.com.
Click HERE to read more about Daiquiri Dick's.