Puerto Vallarta, Mexico - The decision to buy property in Mexico doesn't necessary mean you're taking the plunge and deciding to move to Mexico, but it can turn out to be a very profitable decision to make. Investing in Mexican real estate in a popular area gives you the opportunity to have your property essentially pay for itself.
Buying a second home in Mexico means that while you are not using it, you can rent it out for the rest of the year. [As long as you pay taxes.] By doing so, the income that is made by renting out the property can be used to pay the mortgage. After some years, the home has basically paid for itself - and if you're ready to retire or move to a different country, you already own a home in which to do so!
Another advantage to owning property in Mexico is that you stand to gain income from property value growth. It is safe to assume that in many places in Mexico, especially in frequented touristy beach towns, your property value will eventually rise to higher than what you paid. Again, this is a great opportunity to cash in, should you decide to sell at some point in the future.
There are many advantages to buying a second home in Mexico, having it essentially pay for itself while having the potential of going up in value are just a few of them.
MEXLend is the most experienced mortgage broker in Mexico, and provides home financing all over the country. We are committed to helping you find the best loan for the perfect second home or income property.
Click HERE to learn more about home loans in Mexico with MEXLend.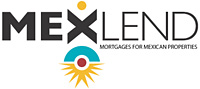 Are you looking to purchase vacation or investment property in Mexico? To discover which one of the many mortgage loan options that MEXLend offers is right for you, visit MexLend.com or MexLend.com.mx, call (322) 222-7377 in Vallarta, toll-free at 1.800.3.Mi.Casa in Mexico or (917) 779-9061 from the US or Canada.

To learn more about MEXlend, click HERE.