Puerto Vallarta, Mexico - The mere mention of Italian food conjures up very specific images, dishes and aromas. While the stereotypical Italian restaurant in America and pretty much any country outside of Italy, usually serves up plates of hot pasta with tomato or cream-based sauces or a big slice of pizza, this is far from true Italian cuisine, which encompasses a wide variety of cooking styles, flavors and tastes.
The differences in Italian cooking really shows up between the northern and southern parts of the country. Each region has its own traditions that reflect the deep history and culture of that area, but to get a taste of it all, you'll have to do a lot of traveling.
Unless you happen to be in Puerto Vallarta, Mexico, where, through May 14th, you can sample a wide variety of Italian dishes on the Special Menu at Daiquiri Dick's Restaurant on Playa de Los Muertos.
Executive Chef, Ignacio Uribe, Chef de Cuisine, Hugo Mejia and Sous Chef Rogelio Garcia have come up with some great dishes. This is an a la carte menu and dinner is served from 5 to 11 pm. The regular a la carte menu is also available.
Daiquiri Dick's The Flavors of Italy Menu
Starters
• Smoked-Trout Pizza with Kalamata olive tapenade, arugula and feta cheese
• 'Caprese' Salad with fresh Mozzarella cheese, tomatoes and fresh basil
• Chilled Watercress Soup with creme fraiche, Za'atar, sesame seeds and sumac
Entrées
• Thick Cut Pork Chops in Cherry-Miso Mostarda with cauliflower puree and veggies
• Farfalle with Chicken Ragu, fresh fennel and peas
• Whole Roast Snapper with Sichuan butter and spiced green beans and carrots
Desserts
• Strawberry-Honey cake with sour whipped cream
• Chocolate Macaroon Cake
Enjoy a sensational sunset, excellent meal and superior service at Daiquiri Dick's, where every meal is An Exceptional Experience.
For an evening at home, cocktail hour on your balcony, or picnic lunches for a trip, ask about our line of take-out sandwiches, hors d'oeuvres, breads and pastries.
Open daily from 9 am to 11 pm, (Closed on Tuesdays from April to October) Daiquiri Dick's offers elegant dining in a relaxed atmosphere for breakfast, lunch or dinner. Visa, MasterCard and Banamex accepted. Reservations are recommended and can be made online at ddpv.com.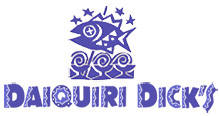 Daiquiri Dick's contemporary design exudes a quiet elegance that invites relaxation, and its tropical location at Olas Altas 314 on Los Muertos Beach offers the perfect atmosphere for enjoying spectacular views of Banderas Bay. For reservations call (322) 222-0566. For more information, visit DDPV.com.
Click HERE to read more about Daiquiri Dick's.