Puerto Vallarta, Mexico - What better place to enjoy Restaurant Week 2017 than at Tu Casa en Vallarta? Award-winning Mexican restaurant, No Way José! is offering a scrumptious three course menu for just $399 pesos. Come and enjoy an unforgettable meal that will exceed your expectations.
No Way José! Restaurant Week Menu
Choose one dish per course
Appetizers
• Zucchini Cream Soup – with prawn
• Stuffed Calamari – with turkey, vegetables and El Tuito cheese with tequila-anise vinaigrette
• Tuna Carpaccio – with Guajillo chile vinaigrette
Main Courses
• Grilled Beef Filet and Octopus – Bathed in cilantro-lime-mezcal sauce
• Grilled Pork Chop – With agave-glazed asparagus, scalloped red peppers and baked potato stuffed with fig jam
• Chicken Breast Mousse – With pecans and almonds on a bed of grilled vegetables with sweet potato purée
Desserts
• Corn Flan with Agave Caramel
• Fritters with Caramel
• Chocolate Mousse
By providing an array of authentic Mexican cuisine favorites in a warm, feel-good atmosphere, No Way José! has quickly become a must-visit restaurant, where live music helps create a festive ambiance in its two seating areas: a spacious al fresco terrace and a more intimate dining room downstairs.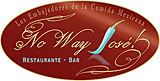 No Way José! is located on the south side of downtown at 5 de Febrero 260, just over the Vallarta street bridge on your left heading south from the Malecón. Open Tues-Sun from 4 pm to 11:00 pm. Reservations are recommended and available by calling (322) 223-2853 or online at NoWayJoseMx.com. For more information, visit NoWayJoseMx.com, or join us on Facebook for real-time updates and special offers.

Click HERE to learn more about No Way José!