Puerto Vallarta, Mexico - Temperatures are heating up and so is the kitchen at Daiquiri Dick's, thanks to its newest Summer Sizzle menu, 'Flavors from the Grill.' Through July 15 this popular beachside restaurant is giving diners a choice for each of this special menu's three smokin' hot courses for just $399 pesos.
Executive Chef Ignacio Uribe, Chef de Cuisine Hugo Mejia and Sous Chef Rogelio Garcia are grilling up the following creative dishes, which will be served, along with the regular menu, from 5:00 to 10:30 pm through July 15, 2017:
Daiquiri Dick's Summer Sizzle On The Grill
Select one item from each category
Appetizers
• Grilled Baby Potato Salad with Champagne vinegar and chips
• Grilled Tomato Soup with parsley-olive salsa
• Smoked Trout and arugula salad with dill sauce, radishes, cherry tomato and green beans
Entrιes
• Baby Back Ribs with tamarind glaze, served with grilled zucchini and herb salad
• Chicken Burgers on ciabatta with white cheddar cheese, served with sweet potato fries
• Linguine with grilled shrimp, grilled lettuce and cherry tomatoes in a garlic-lemon sauce
Desserts
• Fresh Berry Crepes with vanilla ice cream
• Coconut Cream Pie
The Summer Sizzle menu is not subject to any other discounts.
The restaurant's tropical location on Los Muertos Beach offers the perfect atmosphere for enjoying light fare, cold drinks and cool breezes during the hot summer season, and the Summer Sizzle keeps the menu interesting.
Daiquiri Dick's: An Exceptional Experience
Open daily from 9 am to 11 pm, (Closed on Tuesdays from April to October) Daiquiri Dick's offers elegant dining in a relaxed atmosphere for breakfast, lunch or dinner. Visa, MasterCard and Banamex accepted. Reservations are recommended and can be made online at ddpv.com.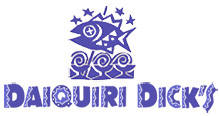 Daiquiri Dick's contemporary design exudes a quiet elegance that invites relaxation, and its tropical location at Olas Altas 314 on Los Muertos Beach offers the perfect atmosphere for enjoying spectacular views of Banderas Bay. For reservations call (322) 222-0566. For more information, visit DDPV.com.
Click HERE to read more about Daiquiri Dick's.