Puerto Vallarta, Mexico - Don't miss your last chance this season to take your taste buds on a world tour without leaving Puerto Vallarta. That's right, the 2017 Summer Sizzle at Daiquiri Dick's is wrapping up on August 31st.
Daiquiri Dick's Restaurant is known for its international cuisine and, for the last Summer Sizzle Menu of the season, Executive Chef Ignacio Uribe, Chef de Cuisine Hugo Mejia and Sous Chef Rogelio Garcia have created a spectacular array of authentic dishes with new twists. For just $399 pesos you can choose one dish from each of the three courses on the Summer Sizzle menu, or you can order from the restaurant's regular menu. Dinner is served from 5 to 11 pm.
Daiquiri Dick's 2017 Summer Sizzle Wrap Up
Select one item from each category for just $399 pesos per person through August 31st
First
• 'Caprese' Salad - tomato, fresh mozzarella cheese and basil
• Tuna Tartare Basket with citrus soy sauce, fresh cilantro root and jicama
• Frito Mixto with Shrimp and Calamari with aioli
Main
• Lemon-Rosemary Chicken with Polenta and garlic-braised spinach
• Linguine with Shrimp, Artichokes, Capers, parsley & white wine lemon beurre blanc sauce
• Pan Seared Catch of the Day served over eggplant ratatouille with zucchini blossom sauce, topped with herb salad
Dessert
• Coconut Pie
• Chocolate Macaroon Cake
This offer is not subject to any other discounts.
Come take in the sunset and enjoy the last Summer Sizzle Menu of the season at Daiquiri Dick's, where every meal is an Exceptional Experience.
Open daily from 9 am to 11 pm, (Closed on Tuesdays and the entire month of September) Daiquiri Dick's offers elegant dining in a relaxed atmosphere for breakfast, lunch or dinner. Visa, MasterCard and Banamex accepted. Reservations are recommended and can be made online at ddpv.com.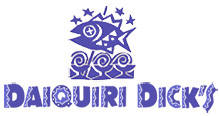 Daiquiri Dick's contemporary design exudes a quiet elegance that invites relaxation, and its tropical location at Olas Altas 314 on Los Muertos Beach offers the perfect atmosphere for enjoying spectacular views of Banderas Bay. For reservations call (322) 222-0566. For more information, visit DDPV.com.
Click HERE to read more about Daiquiri Dick's.