Puerto Vallarta, Mexico - There are so many reasons why choosing to live in Mexico is one of the best decisions you can make, it's virtually impossible to cover them all without leaving something out. Regardless, we've decided to outline some of the most important benefits of moving to Mexico.
The Cost of Living is Low, and Quality of Life is High - Almost anyone who has spent time in Mexico can tell you that the cost of living is much lower than in neighboring Northern countries. With the US dollar standing strong, and the Canadian dollar on the rise, living a very comfortable lifestyle in Mexico is no challenge.
The Food (duh!) - There are Mexican food restaurants in almost every city all over the world. What's better than being surrounded by the real deal on a daily basis? Not to mention the deliciously fresh produce that you can get at the local market.
People in Mexico are incredibly friendly - Everyone helps one another, and not a day will go by that you don't have at least five people greet you on the street with a friendly "buenos dias" or "buenas tardes."
Buying a home in Mexico is the first step to securing a permanent spot in this beautiful country. Even if you are not thinking of moving here full-time just yet, it can serve as rentable property while doubling as a vacation/retirement home.
Click HERE to learn more about residential loans and home financing with MEXLend, a leading mortgage broker in Mexico with the only US dollar loans available in the country.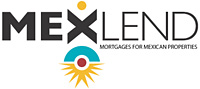 Are you looking to purchase vacation or investment property in Mexico? To discover which one of the many mortgage loan options that MEXLend offers is right for you, visit MexLend.com or MexLend.com.mx, call (322) 222-7377 in Vallarta, toll-free at 1.800.3.Mi.Casa in Mexico or (917) 779-9061 from the US or Canada.

To learn more about MEXlend, click HERE.