Puerto Vallarta, Jalisco, Mexico - Oaxaca (wah-ha-ka) is one of Mexico's most important food regions and is known internationally for its exquisite cuisine.
The state is located in the southwestern part of Mexico. Because of its mountain ranges, the state has a number of climates and cultures, which contributes to making the food the most varied in Mexico. The cooking of each region in the state is characterized by local ingredients and, to some extent, cooking methods.
When in Mexico, sample authentic Mexican cuisine. There no better place to try it than at Daiquiri Dick's restaurant in Puerto Vallarta during their Bi-Weekly Dinner Menu. Every two weeks a different country or region is featured.
This time, Executive Chef Ignacio Uribe, Chef de Cuisine Hugo Mejia and Sous Chef Rogelio Garcia have developed a menu reflecting the many flavors of Oaxacan food. This special a la carte dinner menu is served from 5 to 11 pm November 1 to 18, 2017. The regular a la carte menu is also available.
Daiquiri Dick's Flavors of Oaxaca Menu
Appetizers
• Oaxacan Tamales with Chicken and salsa verde
• Farmer's Salad with mixed greens, local farmer's cheese, pepitas, grilled corn and a jalapeño vinaigrette
• Grilled Octopus with Zarandeado sauce
Entrées
• Shrimp Enchiladas with zucchini flower and Huajillo red sauce
• Traditional Oaxacan Green Pozole with Duck
• Spaghetti with Shrimp, house made Chorizo, garlic and cherry tomatoes
Desserts
• Chocolate Oaxacan Flan
• Churros with Chocolate Sauce
Enjoy a taste of truly flavorful Oaxaca and a great sunset at Daiquiri Dick's, where every meal is an exceptional experience.
During the winter season reservations are recommended, and can be made by calling (322) 222-0566. Just a note about our reservation policy. Reservations are held for a maximum of 15 minutes. They do not guarantee particular tables, although the staff makes every effort to accommodate requests. This policy is in place to ensure the integrity of all reservations.
For an evening at home, cocktail hour on your balcony, or picnic lunches for a trip, ask about our line of take-out sandwiches, hors d'oeuvres, breads and pastries.
Open daily from 9 am to 11 pm, Daiquiri Dick's offers elegant dining in a relaxed atmosphere for breakfast, lunch or dinner. Visa, MasterCard and Banamex accepted. Reservations are recommended and can be made online at ddpv.com.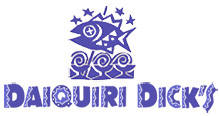 Daiquiri Dick's contemporary design exudes a quiet elegance that invites relaxation, and its tropical location at Olas Altas 314 on Los Muertos Beach offers the perfect atmosphere for enjoying spectacular views of Banderas Bay. For reservations call (322) 222-0566. For more information, visit DDPV.com.
Click HERE to read more about Daiquiri Dick's.