Puerto Vallarta, Mexico - Tired of eating Thanksgiving leftovers? Head over to Daiquiri Dick's! Through Nov. 31, the restaurant's special a la carte menu features an array of internationally inspired dishes, like fresh seafood with an Asian twist, Italian specialties, and more.
Executive Chef Ignacio Uribe, Chef de Cuisine Hugo Mejia and Sous Chef Rogelio Garcia have developed some amazing dishes that are sure to tempt your taste buds, and they will be serving them up nightly from 5:00 to 11:00 pm.
Appetizers
• Catch of the Day Sashimi with fresh pickled cucumber, baby greens and miso dressing
• Sweet Potato - Carrot Soup with roasted poblanos, corn, fennel, turmeric and cilantro
• Grilled Italian Bread marinated with olive oil and topped with Camembert cheese & strawberry sauce
Entrees
• Stewed Chicken with carrots, baby potatoes, mint, sherry vinegar and raisins
• Grilled Tuna Steak marinated in garlic, ginger, honey and soy served with sweet and sour sauce, rice and chicory
• Fettuccine with Shrimp, kale pesto and mushrooms
Desserts
• Chocolate Banana Tart
• Coconut - Rice Pudding
The restaurant's regular a la carte menu is also available.
Enjoy a sensational sunset, excellent meal and superior service at Daiquiri Dick's, where every meal is An Exceptional Experience.
For an evening at home, cocktail hour on your balcony, or picnic lunches for a trip, ask about our line of take-out sandwiches, hors d'oeuvres, breads and pastries.
Open daily from 9:00 am to 11:00 pm, Daiquiri Dick's offers elegant dining in a relaxed atmosphere for breakfast, lunch or dinner. Visa, MasterCard and Banamex accepted. Reservations are recommended and can be made online at ddpv.com.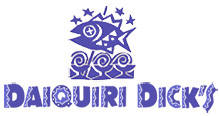 Daiquiri Dick's contemporary design exudes a quiet elegance that invites relaxation, and its tropical location at Olas Altas 314 on Los Muertos Beach offers the perfect atmosphere for enjoying spectacular views of Banderas Bay. For reservations call (322) 222-0566. For more information, visit DDPV.com.
Click HERE to read more about Daiquiri Dick's.