Puerto Vallarta, Mexico - An exhibition by Ajijic artist Efren Gonzalez opens at Galleria Dante on Friday, December 29, as part of this week's Southside Shuffle. Stop by Puerto Vallarta's largest and most eclectic art gallery from 6-10 pm to meet the artist, view his works, and enjoy complimentary cocktails.
Efren Gonzalez resides in Ajijic, (his birth place) with his family, in a home he built entirely from the sale of his paintings. For years he struggled with the dream of living and supporting his family from his art; a dream he realized everyday, brick by brick.
Born on June 1, 1972, this 44 year-old, impassioned, local talent, stands out even in the pantheon of Lakeside greats. His paintings are intensely alive, full of color, meaning and insights into Mexico.
"Art started with a pencil," Efren says, "almost as soon as I could hold it," and despite a few short detours, the journey to becoming a "working" artist began early. Efren grew up in Ajijic, winning local and regional drawing competitions as early as primary school. Although he preferred Art to Math and Chemistry in high school, he still didn't know that one day it would be his career. Sometimes, he still lacks confidence, he admits.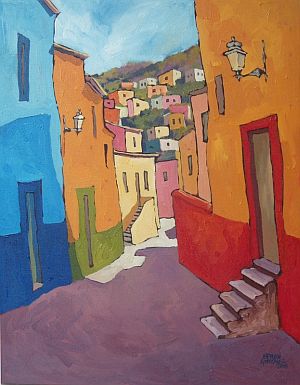 After high school, Efren started out studying Architecture and then Plastic Arts, but shortly found that he hadn't the patience for either. What career would suit him best? He had worked in restaurants, fabricas, and as a translator, but only to gain his daily bread, his sueldo, drawing and painting all the while, as a function of his being. Still undecided as to what to do, Efren was offered a grant to study Art at a small college in Maryland. He made the most of the opportunity. More than anything he learned there, he was enriched by seeing in person, great works he had only admired in books. One year later, he returned to Ajijic and took up his brush.
Leaving the hardships of the days when he peddled his work himself, Efren is now sought after by galleries across North America.
A prodigious painter in all media: watercolor, pastel and acrylic, but oil is his preferred medium. Efren participated in the famous Neil James art program in Ajijic. He studied with various artists: Antonio Cardenas; International painter, B.R. Kline; watercolorist. Luis Eduardo Gonzalez; sculptor Kent Clark and etching master, Juan Navarro.
Efren's paintings depict the things he sees in everyday life – the colorful people and landscape of his beloved Mexico. He is equally well known as a muralist having completed his first intricate mural in the 90's and since then many more in his beloved Ajijic. Efren will be painting in the gallery several days before his show, so please feel free to stop by Galleria Dante and meet this talented young man.
Since his show at Galleria Dante last December Efren has had a busy year. He started 2017 by giving painting classes in Ajijic, Manzanillo, Melaque, and La Manzanilla. He created & installed a ceramic mural in Coyoacán in Mexico City. Then he exhibited in Houston and Austin. He traveled to Petaluma, California to take oil classes from Camille Przewodek. He was invited to give watercolor classes to a small group in Portugal on a month-long trip around the country. He just returned in early December from Chicago where he exhibited at the UNAM campus, Chicago. After his exhibit here, he has a programmed exhibition in La Manzanilla and will finish his season with an exhibition in Austin, Tx. He is also negotiating to work with a gallery in Toronto and an exhibition at UNAM Ottawa, Canada.
Don't miss your chance to meet this talented artist for cocktails at Galleria Dante while you're out doing this week's South Side Shuffle on Friday, December 29 from 6-10 pm.
While you are there, be sure to check out Di Vino Dante, a chic wine and tapas bar overlooking the gallery's sculpture garden. In late June, Di Vino Dante opened a small dining area on the ground floor in a corner of Galleria Dante, for those who like to people watch.

Open Mon-Fri from 10 am-5 pm, Galeria Dante is located at Basilio Badillo #269 in Puerto Vallarta's Romantic Zone. For more information, call (322) 222-2477, or send an email to galleriadante2(at)gmail.com. To see some of the art work on display at Galleria Dante, visit GalleriaDante.com.