Puerto Vallarta, Mexico - The JG Group proudly presents the first in a series of cocktail parties to introduce new services and providers especially for new property and business owners. From interior design to photography to property management, come and enjoy a cocktail and meet some of the fresh and exciting talent coming into Vallarta.
First up: Mikel Bowman.
Mikel has worked in the fashion industry for over 20 years. Most of his time was spent in New York City and just recently in Los Angeles. Working his way to the top he held vice president positions in his last 2 roles in visual merchandising and interior/store design.
Bowman has worked for a number of the world's most famous premium brands, such as Lacoste, Limited Brands, Ann Taylor, and Macy's - just to name a few. He has collaborated and designed interior spaces, furniture, retail windows, stores, and showrooms.
Now calling Vallarta home, Mikel is focusing on working with residential and commercial clients to help them design and furnish their dream homes and businesses.
Come meet Mikel in the new Raicilla Lounge at No Way José! from 6:00 to 7:30 pm on Thursday, December 14. Prepare to be impressed!
The hosts for the Meet-and-Greet, The JG Group: Vallarta Real Estate Advisors, provide real estate services in Puerto Vallarta. The Group stands firmly on an advisory approach. They take the time to learn who you are and what will make you happy. They go beyond the sale. They work with you to make the transition to your new life in Mexico everything you want it to be.
Join The JG Group as they host the first of a series of cocktail parties in the new Raicilla Lounge at No Way José! to introduce the fresh and innovative interior design, photography, and party planning talent coming into Puerto Vallarta.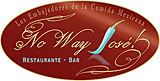 No Way José! welcomes you to La Zona Romantica on the south side of Vallarta at 5 de Febrero 260, just over the Vallarta street bridge on your left heading south from the Malecón. Open Tuesday-Sunday from 4:00 pm to 11:00 pm. Reservations are recommended and available by calling (322) 223-2853 or online at NoWayJoseMx.com. For more information, visit NoWayJoseMx.com, or join us on Facebook for real-time updates and special offers.

Click HERE to learn more about No Way José!