Puerto Vallarta, Mexico - Boldly go where your taste buds haven't gone before with a variety of dishes from countries far and near. Daiquiri Dick's Restaurant controls the flight deck where they are featuring a bi-weekly special a al carte dinner menu.
Daiquiri Dick's is known for its international cuisine and love to celebrate the good stuff with an amazing World Flavors menu. They are featuring a wide selection of tastes.
Executive Chef Ignacio Uribe, Chef de Cuisine Hugo Mejia and Sous Chef Rogelio Garcia have created a galaxy of dishes with creative flavors.
This menu is being served from 5 to 11 pm through December 30, along with the restaurant's regular menu. However, the Special Christmas Menu will be available on December 24 and 25, 2017, instead of this special menu.
Daiquiri Dick's World Flavors Menu
Appetizers
• Grilled Fig Bruschetta with Caramelized Onions, Blue Cheese and Balsamic Drizzle
• Kale Salad with Apples, Pecans and Cranberries in a Brown Sugar Bacon Vinaigrette
• Italian Style Cioppino with fresh Clams, Mussels, Shrimp, Squid and Fish Fillet in a Garlic, Tomato and Fresh Basil Sauce
Entrées
• Thick Cut Pork Chop with a Cranberry Glaze, served with a Fresh Herb Salad
• Grilled Totuaba Fish Filet served with Sweet Potato Purée and Fresh Grape Salsa with Mint, Ginger and Toasted Almonds
• Spaghetti with Shrimp, Capers, Olives, Tomatoes and Basil
Desserts
• Deep Dish Apple Pie a la Mode
• Lime Posset with Lychees
There is a commitment to excellence in dining that keeps the process interesting for the chefs, as well as for the patrons. Chef Ignacio says, "It helps us expand our expertise. We would like to offer a wide variety of foods in as many styles as we know how."
Daiquiri Dick's, An Exceptional Experience.
Open daily from 9 am to 11 pm, Daiquiri Dick's offers elegant dining in a relaxed atmosphere for breakfast, lunch or dinner. Visa, MasterCard and Banamex accepted. Reservations are recommended and can be made online at ddpv.com.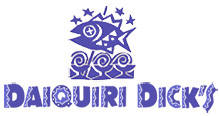 Daiquiri Dick's contemporary design exudes a quiet elegance that invites relaxation, and its tropical location at Olas Altas 314 on Los Muertos Beach offers the perfect atmosphere for enjoying spectacular views of Banderas Bay. For reservations call (322) 222-0566. For more information, visit DDPV.com.
Click HERE to read more about Daiquiri Dick's.