Puerto Vallarta, Mexico - Here's the latest news from PuRR Project, a non-profit, no-kill feline shelter located just north of Puerto Vallarta, Mexico that provides homeless cats and kittens a recuperative stay with the ultimate goal of adopting them out to loving homes sterilized, vaccinated and disease free.
November Garage Sale
The 4th Annual PuRR Garage Sale was a HUGE hit this year, thanks to all the generous folks who donated sale items and all the people who came to shop! By the end of October, funds are always at a critical point and this year we earned enough pesos to fund the shelter for five weeks! Un-sold books were donated to Los Mangos Library and the other items donated to Corazon de Niña for their bazaar. (Hint: We may do another one in April!)
Shelter Tours
The shelter "Greeter cats" were thrilled with our first tour of this season on November 22. Visitors brought treats and toys and spent some quality time hugging kitties and all agreed it was a day to remember. First time visitors are always impressed with how so many cats can live together peacefully (most of the time!) and how clean it is (thanks to José and Carlos!) If you live in Vallarta or plan to visit in the next few months, you can find all the info for making a reservation on our website.
Upcoming tour dates: Dec 6 & 20, Jan 3, 17 & 31, Feb 14 & 28, Mar 14 & 28.
Kitty BINGO
High Season is here and time for Kitty BINGO! The December dates are the 13th and 27th and then every other Wednesday through March. Cards go on sale at 4:30 at Margarita Grill (on the corner of Basilio Badillo and Piño Suarez in Old Town) and games start at 5:00. It's still only $100 pesos to play for lots of fun prizes when you get a BINGO and yell "MEOW!" Plus Margarita Grill's special drink and snack menu just for us BINGO players!
The Purr Nursery
The shelter took in 24 kittens and one Mama cat in the last couple of months, so the PuRR Nursery is always full! Adoptions have been slow so we have many kittens and "teenagers" who really need to find their Furr-ever homes... we have boys & girls in all colors and sizes. Come check out a selection any Friday at Plaza Marina from 11:00 an to 2:00 pm.
2018 PuRR Calendar
It's not too late to get your 2018 PuRR Calendar, this year featuring the kittens from the PuRR Nursery! You can pick one up at our Saturday Adoption Post from 10:00 to 1:00 at Daiquiri Dick's... or any day at the hostess desk at DD's. It's only $250 pesos and makes the perfect holiday gift for your cat-loving family and friends! We also have a supply of our new "I'm Purr-fect" logo T-shirts at the booth. So come on by on Saturday and say "Hello!"
Donating to PuRR
Making a donation in the name of a cat-loving friend or family member is a great gift for birthdays or Christmas! And that's exactly what several people did for Presley Sullivan's 6th birthday in November! Her mother Heather reports: "This week's festivities started with a surprise animal show in Presley's Kindergarten class and finally a fairy-themed craft party. Presley's classmates and friends crafted, painted treasure boxes and earned their fairy wings. In lieu of gifts, many of Presley's guests donated to the PuRR Project, where two of our three Mexican rescues have come from."
Amazon Smile
Shop for everyone on your gift list this holiday at smile.amazon.com and Amazon donates to Purr Project USA Inc.
2017 Tax Exemptions
It's not too late to make a charitable donation for 2017. Tax exempt receipts for U.S. Dollar donations deposited in the U.S. are available. Make out your check to:
PuRR Project USA Inc.
and mail to:
PuRR Project USA, Inc.
113 Mountain Laurel Drive
Milton, DE. 19968
Read more at PurrProject.com.
---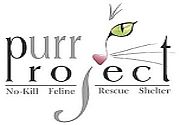 PuRR Project is a Non-Profit shelter in Puerto Vallarta, Mexico that provides homeless cats and kittens a recuperative stay with the ultimate goal to adopt them out to loving homes. All of our residents have been sterilized, vaccinated and are disease free. We accomplish this through our own efforts as well as collaboratively with other animal welfare organizations. Both monetary donations as well as donations of dry cat food are most welcome – and much appreciated. For more information, visit PuRRProject.com or send an email to info(at)PurrProject.com.