Puerto Vallarta, Jalisco, Mexico - If you like sunset dining, be sure to add Daiquiri Dick's on Playa Los Muertos to your 'must visit' list. The menu at this popular Puerto Vallarta restaurant is always evolving, and their bi-weekly, a la carte dinner specials are a great way to sample cuisines from all over the world.
Every two weeks there's a new selection of World Flavors. Executive Chef Ignacio Uribe, Chef de Cuisine Hugo Mejia and Sous Chef Rogelio Garcia have created dishes with authentic flavors - but new twists - for this special menu, which is being served through January 31, 2018.
Daiquiri Dick's World Flavors Menu
Appetizers
• Lemon Grass Scented Coconut Milk Soup with Shrimp and Mushrooms
• Salmon Cakes with Kaffir Lime, fresh Ginger and Sesame and Ginger Sauce
• Sea Scallop Carpaccio with Lime-Ginger Vinaigrette and Chives
Main Courses
• Miso Marinated Flank Steak with White Rice, Spicy Soy Sauce and Watercress Salad
• Pan Finished Giant Shrimp with Lichee and Mirin Sauce and served with Jazmin Rice
• Spaghetti with Roasted Duck, Kalanga root, Mushrooms, Coconut Milk and Lemongrass
Desserts
• Passion Fruit Cheesecake
• Deep Fried Banana wrapped in Wonton Skin and served with Vanilla Ice Cream
This special a la carte menu is featured along with the regular menu, and dinner is served nightly from 5:00 to 11:00 pm.
Enjoy a perfect sunset, an excellent meal and superior service at Daiquiri Dick's, where dining is always An Exceptional Experience.
Open daily from 9 am to 11 pm, Daiquiri Dick's offers elegant dining in a relaxed atmosphere for breakfast, lunch or dinner. Visa, MasterCard and Banamex accepted. Reservations are recommended and can be made online at ddpv.com.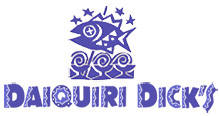 Daiquiri Dick's contemporary design exudes a quiet elegance that invites relaxation, and its tropical location at Olas Altas 314 on Los Muertos Beach offers the perfect atmosphere for enjoying spectacular views of Banderas Bay. For reservations call (322) 222-0566. For more information, visit DDPV.com.
Click HERE to learn more about Daiquiri Dick's.