Puerto Vallarta, Mexico - The Bonito Kitchen is a hidden gem of a restaurant that is not to be missed. It's just a corner off the beaten path and that makes it all part of the adventure when you arrive, panza-ready, for a tasty, nourishing meal that you will not soon forget.
There is everything to love about this home-style kitchen, set in a cozy neighborhood corner, a lemon's-throw from Costco. The craft cocktails are innovative - my favorite is lemonade with maracuya-passion fruit, and the berry margaritas are strong, and my cardiologist suggests, even medicinal. Among the many other yummy cocktails are: Blue lavender, (blueberries, lavender syrup, lime, gin & lavender) and Rosemary & Thyme (charred rosemary & thyme, yuzu, Tanqueray gin, Chartreuse & Absinthe).
The Chef, Soleil Ho, serves Asian small plates drawing on both traditional and syncretic Japanese, Korean and Vietnamese recipes. The ambience is quiet enough for a delicious conversation with a group of friends, yet communally enlivening, with tables organized to share or keep private, both inside and out. The staff is friendly and attentive and the food is clearly cooked to order with love and attention.
The Bonito Kitchen owners, Chef Soleil Ho and her mother Francie Nguyen, are a hands-on Mother/Daughter team that run the kitchen and greet guests with aplomb.
Raised in New York and educated at Grinnell, Soleil is trained as both a chef and a writer; she brings a deft touch to her preparations which are deeply satisfying to both belly and brain. Most recently arrived from the Portland Food scene, Soleil blends the natural flavors of Mexico and Asia. Let's remember that Mexico gave Asia the chili, and Soleil uses this medicinal and sassy fruit in many creative ways. As the owners point out, the word 'Bonito' has two meanings:
"We love the name "bonito" because it is both the Spanish word for "beautiful" and the name of one of the most important fish in Japanese cuisine. Thus, it is the perfect name for a restaurant that seeks to explore the shared traits in the cuisines of Vallarta and Vietnam, delving into our mutual love for funk, citrusy brightness, and carefully calibrated spice."
For your first bites, the kim chi and pickles are de riguer and they set the stage for healthy digestion and palate-cleansing as you prepare for a range of dishes that lead to a festival of small plates.
There are options for both a vegetarian and carnivore's palate. The ones I keep going back to include kimchi; cucumber salad with chili vinaigrette; fried veggie wontons with seasonal vegetables; chicken wings with soy-garlic glaze; pork and shrimp potstickers; Cola-braised pork belly with daikon; coffee demi-glace steamed bun with pork belly; tonkatsu pork with panko crust; coconut shrimp with sriracha & honey spicy mayo; summer rolls with shrimp, rice paper; grilled mushrooms with miso butter; grilled zucchini with Thai basil & peanut pesto and pineapple kimchi fried rice.
The pièce de résistance? Pork belly Bao. Where else can you find slow-cooked pork belly within hundred of miles or fresh spring or summer rolls? The highlight of each week - yes I confess to going twice a week sometimes - is the Pho or Ramen on Saturdays from 2-11 pm. Don't tarry however, because the place starts to fill up with people-in-the-know right at 2:00 pm, when this nourishing meat and vegetable-filled broth is served in bowls large and small.
Keep an eye on the website; it lists special events such as the occasional Sunday pop-up brunches. This month a special Southern Soul Food pop-up dinner with a chef from Copenhagen is scheduled for January 24. If you have your own special event to plan, the Bonito Kitchen will cater. The cost of all this sumptuous fare? It's all very reasonable.
Finally, save room for the delicate desserts: Vietnamese coffee, with ice cream: (coconut, chocolate, salted caramel); sundaes galore, mango or pumpkin puddings, berries with cream, matchamochi donuts, and root beer floats. The menu changes according to what is fresh and available so there is always something new to sample. Bonito Kitchen also holds occasional special cooking classes; On January 14th they will host a Samosa making class.
Open Tuesday-Friday from 6-11 pm and from 2-11 pm on Saturday, Bonito Kitchen is located at Av. de Los Tules #325 (2 minutes from Costco) in Col. Jardines de Las Gaviotas. For more information, call (322) 225-8632, email BonitoKitchenPV(at)gmail.com, or visit bonitokitchen.com. (Keep an eye on their website and Facebook page because sometimes they do a special Sunday brunch.)
---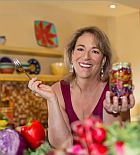 Leslie Korn has lived and worked in Banderas Bay since 1973 conducting research in Traditional Medicine of Mexico. She is a Harvard Medical School and Harvard School of Public Health-educated clinician in clinical practice in Mental Health Nutrition, Integrative Medicine and the prevention of dementia and cognitive decline. She is the author of 7 books including the latest,
'The Good Mood Kitchen.'
To learn more about her work, visit
DrLeslieKorn.com.
She can be reached at
lekorn(at)cwis.org.
Click HERE to read more articles by Leslie Korn.