Puerto Vallarta, Mexico - There's always so much going on in Puerto Vallarta and around Banderas Bay it can be difficult to keep up with it all. Here's a look at some of this week's Puerto Vallarta news, a few community announcements and a couple of weekend events you won't want to miss.
Donna Davies Hosts Open House at Terra Loft on Saturday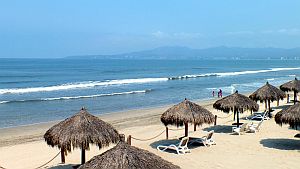 Are you looking to buy Nuevo Vallarta real estate? Timothy Real Estate Group's Donna Lynn Davies will be hosting an Open House on Saturday, February 3, from 11:00 am - 2:00 pm at Terra Loft PH 32, situated in a secured private development in Nuevo Vallarta. Terra Loft PH 32 is a three level penthouse with 4 bedrooms, 4.5 bathrooms and lots of space for family and friends under one roof. The third level features a private pool, BBQ and lounge area, perfect for sunbathing and privacy. One of the best features is direct access to a beautiful beach that's perfect for walking or sun and fun. Next door is the Etc. Beach Club, offering a great menu and drinks. This beautiful penthouse is also close to many restaurants, shopping mall, supermarket, banks, hospital and all the amenities found in Nuevo Vallarta. Join Donna on Saturday, February 3, 2018 from 11:00 am to 2:00 pm at Terra Loft PH 32, located at Avenida Paseo de los Cocoteros, Ejido Nuevo Vallarta, Bahía de Banderas, NAY, México, 63735. (
See map
) For more information, call Donna on her cell at 322.779.9406 or at the Timothy Real Estate Group office at (322) 223-5300.
Vallarta Botanical Garden Membership Appreciation Day
The Vallarta Botanical Garden is celebrating our members for their generous support on Saturday, February 3. Please join us for a delicious lunch buffet, refreshments and entertainment. Activities include: a Lunch Buffet at Hacienda de Oro (first floor) served from 12:00 to 2:00 pm; Garden Tours at 12:00 pm and 1:00 pm (Meet in front of the pond); and a performance by Folkloric Dancers on the first floor of Hacienda de Oro at 3:00 pm. Please note members must always present (and wear) an up-to-date membership card. If your membership is expired, or you want to become a member, you can purchase or renew on the
Garden's website.
Please remember that parking is extremely limited and car pooling, taxi or public transportation is recommended. For more information, call (322) 223-6182 or visit
vbgardens.org.
ANA Completes Phase 1 of Highway 200 Sidewalk Project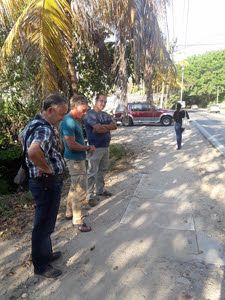 Thanks to the efforts of the Amapas Neighborhood Association, a new cement sidewalk, complete with safety curb and slough wall, now runs along a stretch of Highway 200 across from Paramount Bay. Construction began on November 21, following a summer of torrential rains. Our City crew, under the supervision of ANA Project Manager Fernando Hernandez, finished the work to highly professional standards on December 15. Thanks to our generous contributors, we raised almost $100,000 pesos for Phase One. The funds were kept and accounted for separately, and a detailed financial report was sent to all contributors. Total costs were $125,885.35 pesos, an overage of $28,445.45, much of which was the result of inflation during the summer due to increased gas prices. ANA covered the additional Phase One costs from its other funds. The Vallarta Garden Club has agreed to help beautify our new sidewalk by planting and maintaining creeping vines behind the new slough wall. Apparently, City Hall likes what we've done, because Public Works has already given us a verbal commitment to continue with Phase 2 'same time, next year' ...assuming we can raise the funds for materials and labor. Fundraising for Phase 2 will begin soon.
The Amapas Neighborhood Association is the official association of residents and business owners in the Colonia Amapas of Puerto Vallarta. Learn more at AmapasPV.com.
Weekend Events in Puerto Vallarta and Around Banderas Bay
Click on titles for more information
• 7th International Charro Championships at Arena Vallarta
• Film, Spirits, Music & Life at the 5th Festival Sayulita
• "Amy & The Hitmen" at The Palm Cabaret, Friday at 9:30 pm
• "Rocky Horror Show" at Act II Stages, Saturday at 10:00 pm