Puerto Vallarta, Mexico - It is time to wish a Happy Valentine's Day to everyone we love. In the beginning, this day was associated with romantic couples only, but in recent times the festival encompasses many more. Now, people take the opportunity to wish a Happy Valentine's Day to anyone they love. It could be father, mother, siblings, friends, co-workers or just anyone special to them.
Here in Mexico, February 14 is known as "El Día del Amor y Amistad" which, literally translated means "the day of love and friendship." The idea behind this tradition is to celebrate love, get love and give love to everyone around us.
Gather your loved ones for a superb Valentine's dinner at Daiquiri Dick's Restaurant on Puerto Vallarta's famous Los Muertos Beach. Executive Chef Ignacio Uribe, Chef de Cuisine Hugo Mejia and Sous Chef Rogelio Garcia have developed a sweetheart of an extra special a la carte dinner menu, and they'll be serving it from 5 to 11 pm on February 14, 2018, in addition to their regular menu.
Daiquiri Dick's Valentine's Menu
Starters
• Grilled Octopus with Lime Vinaigrette
• Poblano-Corn Chowder with Shrimp Timbal and Crispy Bacon
• Roasted Beet Salad with Apples, Goat Cheese and Candied Pecans
Main Courses
• Napoleon of Grilled Totuaba and San Blas Shrimp with Grilled Red Bell Pepper, Zucchini, Spinach, Parmesan Tuille and Citrus Beurre Blanc
• Bacon Wrapped Pork Tenderloin in Apple Cider Beurre Blanc with Caramelized Apple and Carrot Purée
• Linguine with Artichokes, Shrimp, Capers, Parsley and a White Wine Butter Sauce
Desserts
• Tiramisu Heart
• Molten Chocolate Cake with Fresh Berries
The restaurant also features flaming coffees and dessert martinis that'll make your Valentine's Day celebration even sweeter.
During the winter season reservations are recommended, and can be made by calling (322) 222-0566. Just a note about the restaurant's reservation policy. Reservations are held for a maximum of 15 minutes. They do not guarantee particular tables, although they make every effort to accommodate requests. This policy is in place to ensure the integrity of all reservations.
Daiquiri Dick's, An Exceptional Experience.
Open daily from 9 am to 11 pm, Daiquiri Dick's offers elegant dining in a relaxed atmosphere for breakfast, lunch or dinner. Visa, MasterCard and Banamex accepted. Reservations are recommended and can be made online at ddpv.com.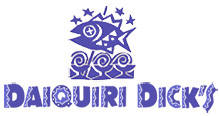 Daiquiri Dick's contemporary design exudes a quiet elegance that invites relaxation, and its tropical location at Olas Altas 314 on Los Muertos Beach offers the perfect atmosphere for enjoying spectacular views of Banderas Bay. For reservations call (322) 222-0566. For more information, visit DDPV.com.
Click HERE to read more about Daiquiri Dick's.