Puerto Vallarta, Mexico - World cuisines offer a great variety in terms of flavors, tastes and combinations. The chefs at Daiquiri Dick's Restaurant have selected the top international cuisines that are worth traveling long and far for, Spanish, Thai, Japanese, Indian, Italian, etc. These specific flavors are known for the seasonality of the ingredients, the color combinations and the authentic national flavor you can experience when sampling these regional creations.
The restaurant offers a bi-weekly special dinner menu featuring tastes from all over the world. Executive Chef Ignacio Uribe, Chef de Cuisine Hugo Mejia, and Sous Chef Rogelio Garcia have developed each dish with the pure expression of a country's heritage, geography and culture, and they're serving them up for dinner from 5:00 to 11:00 pm through February 28, 2018.
Appetizers
• Egg Salad Bruschetta with Basil, Cilantro, Parsley and Aioli
• Grilled Cobb Grain Bowl Salad with Quinoa, Avocado, Mint, Pistachios and Herbs
• Fresh Baja Clams with White Wine, Pancetta, Fennel and Olive Oil
Main Courses
• Gochuchang Marinated Pork Shoulder served with Sweet Potato Puree and Jicama Slaw
• Chicken Saltimboca Roll, wrapped in Prosciutto with Gruyere Cheese and served with Asparagus and Scalloped Potatoes
• Linguine with Shrimp, Green Olive Sauce and Zesty Breadcrumbs
Desserts
• Macarron Cake
• Traditional Three Milk Cake
Daiquiri Dick's regular a la carte menu is also available.
The restaurant's super-friendly and attentive staff treats you as a family friend as you enjoy terrace, patio or beach dining. If you have an early dinner you can catch a fabulous sunset. But no matter what time you dine, incredible views of the beautiful Bay of Banderas enhance every breakfast, lunch and dinner at Daiquiri Dick's, where every meal is An Exceptional Experience.
Open daily from 9 am to 11 pm, Daiquiri Dick's offers elegant dining in a relaxed atmosphere for breakfast, lunch or dinner. Visa, MasterCard and Banamex accepted. Reservations are recommended and can be made online at ddpv.com.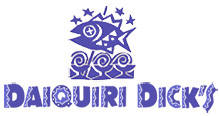 Daiquiri Dick's contemporary design exudes a quiet elegance that invites relaxation, and its tropical location at Olas Altas 314 on Los Muertos Beach offers the perfect atmosphere for enjoying spectacular views of Banderas Bay. For reservations call (322) 222-0566. For more information, visit DDPV.com.
Click HERE to read more about Daiquiri Dick's.