Puerto Vallarta, Jalisco, Mexico - When in Mexico, sample authentic Mexican cuisine. There is no better place to try it than at Daiquiri Dick's Restaurant in Puerto Vallarta during their Bi-Weekly Special Menu. Every other week a different country or region is featured. Mexico is highlighted through March 15, 2018.
The country offers a wide variety of regional favorites and expect great seafood dishes in any coastal city. Mexican cuisine is mainly a fusion of the cooking by its indigenous people and Spanish food brought into the country during the 16th century. The basics were corn, beans and chiles. Later, other Europeans introduced a large number of other foods, the most important were meat from domesticated animals, dairy products and various herbs and spices.
The staples of Mexican food remains corn and beans. Squash and chili peppers are also prominent. The most frequently used herbs and spices are chili powder, cilantro, epazote, cinnamon, honey and cocoa. Chiles, fresh and dried, play key roles, too. Many Mexican dishes also contain garlic and onions.
Next to corn, rice is the most common grain in Mexican cuisine. The Spaniards introduced it in early 1500s and this sparked one of the world's greatest fusion cuisines.
Executive Chef Ignacio Uribe, Chef de Cuisine Hugo Mejia, and Sous Chef Rogelio Garcia have developed a diverse Mexican menu and the Bi-Weekly Special Menu offers some interesting choices. Daiquiri Dick's regular a la carte menu is also available, and dinner is served from 5:00 to 11:00 pm.
Starters
• Garden Salad with Ranchero Cheese, Pumpkin Seeds, Roasted Garlic Balsamic Vinaigrette
• Duck Garnachas - open faced Tacos with Duck Confit and Avocado Sauce
• Charred Tomatillo Soup with Chicken Stock, Parmesan Cheese and Cilantro Cream
Entrées
• Pork Tenderloin in Oaxacan Black Mole, served with Puréed Plantain
• Grilled Totuaba Filet served with Pumpkin Seed Mole Sauce and Rice
• Spaghetti with Roasted Poblano Cream Sauce, Shrimp and Capers
Desserts
• Oaxacan Chocolate Flan
• Coconut Pie
What a great way to travel all over Mexico without ever leaving Puerto Vallarta! Reservations are highly recommended, and can be made by calling (322) 222-0566.
Enjoy a perfect sunset, an excellent meal and superior service at Daiquiri Dick's, where dining is always An Exceptional Experience.
Open daily from 9 am to 11 pm, Daiquiri Dick's offers elegant dining in a relaxed atmosphere for breakfast, lunch or dinner. Visa, MasterCard and Banamex accepted. Reservations are recommended and can be made online at ddpv.com.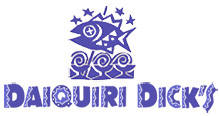 Daiquiri Dick's contemporary design exudes a quiet elegance that invites relaxation, and its tropical location at Olas Altas 314 on Los Muertos Beach offers the perfect atmosphere for enjoying spectacular views of Banderas Bay. For reservations call (322) 222-0566. For more information, visit DDPV.com.
Click HERE to learn more about Daiquiri Dick's.