Puerto Vallarta, Mexico - An authentic world kitchen can be found in Puerto Vallarta. Daiquiri Dick's restaurant features cuisine from all over the world.
The recipes for Indian, Mexican and Chinese dishes are well known across the globe: they were among the first "exotic" cuisines exported outside their native borders and have grown in popularity ever since.
Italian and French cuisines are probably the most sought after world dishes, as the former stands for true genuine flavors, while the latter has come to signify refined and sophisticated taste. All the influences can be found at this open-air restaurant right on Los Muertos Beach.
Daiquiri Dick's is proud to feature a bi-weekly special dinner menu. Executive Chef, Ignacio Uribe, Chef de Cuisine, Hugo Mejia and Sous Chef, Rogelio Garcia consistently create a crazy good a la carte menu every two weeks.
Here's what the special menu features through March 31, which, in addition to their regular dinner menu, is being served nightly from 5:00 to 11:00 pm.
Appetizers
• Oven Roasted Beet-Cucumber Gazpacho with Mint and Red Wine Vinegar
• Citrus-Avocado Salad with Oranges, Mandarin Oranges, Pistachios and Watercress
• Summer Rolls with Wasabi Marinated Salmon, Fresh Mango and Bean Sprouts
Main Courses
• Oven Roasted Pork Osso Bucco in a Red Wine Sauce and Served with Mushroom Risotto
• Braised Chicken with Apples and Jazmine Rice
• Polenta Lasagna "a la Bolognesa" with Slow Cooked Tomato Sauce
Desserts
• Vanilla Panacotta with Berries Sauce
• Chocolate Fudge Cake
Eating exciting food is one of the best parts of any day. The chefs can help you discover the real soul of these world cuisines.
Daiquiri Dick's, An Exceptional Experience.
Open daily from 9 am to 11 pm, (Closed on Tuesdays from April to October) Daiquiri Dick's offers elegant dining in a relaxed atmosphere for breakfast, lunch or dinner. Visa, MasterCard and Banamex accepted. Reservations are recommended and can be made online at ddpv.com.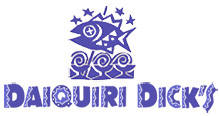 Daiquiri Dick's contemporary design exudes a quiet elegance that invites relaxation, and its tropical location at Olas Altas 314 on Los Muertos Beach offers the perfect atmosphere for enjoying spectacular views of Banderas Bay. For reservations call (322) 222-0566. For more information, visit DDPV.com.
Click HERE to read more about Daiquiri Dick's.