Puerto Vallarta, Mexico - You've heard many times about the 180+ cats and kittens living happily at the PuRR Project Ranch. Now you can meet them!
There's still room on the air-conditioned van for the Wednesday, March 28 PuRR Project Ranch Tour - the last one of the season! The spacious van will leave Superior Tours' office at Plaza Romy in Old Town at 9:00 am, VIPS Restaurant by the Marina Walmart at 9:20 am, or the Lago Real Walmart parking lot in Nuevo at approximately 9:45 am.
In addition to meeting all 180 cats and kittens up close and personal, we also make a quick stop in San Juan de Valle, a charming little Mexican town near the ranch where we've discovered a great taco stand and some interesting little tiendas. You'll be back at your pick-up point by 1:30 pm.
Reserving your spot is a breeze. Just go to
PurrProject.com,
and click on 'Shelter Visits' at the top of the page. You'll find all the info you need about visiting the ranch, or you can contact our Tour Director, Bob Doelger, at
visit(at)purrproject.com.
The cost is only $400 pesos if you pay on the van or $20 USD if you pay online via PayPal. Please note that these tours have been completely funded so every peso of your donation goes directly to the care of the cats residing at the ranch. Please respect the fact that van space is limited. Last minute no-shows result in an empty seat and a loss of much-needed donations.
Don't miss your last chance of the season to come out and pet, cuddle, hug, nuzzle, pamper, and snuggle to your heart's content! Tours will resume next November ~ have a great summer!
---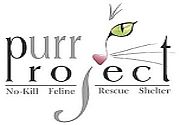 PuRR Project is a Non-Profit shelter in Puerto Vallarta, Mexico that provides homeless cats and kittens a recuperative stay with the ultimate goal to adopt them out to loving homes. All of our residents have been sterilized, vaccinated and are disease free. We accomplish this through our own efforts as well as collaboratively with other animal welfare organizations. Both monetary donations as well as donations of dry cat food are most welcome – and much appreciated. For more information, visit PuRRProject.com or send an email to info(at)PurrProject.com.