Puerto Vallarta, Mexico - World cuisines offer a great variety in terms of flavors, tastes and combinations. The chefs at Daiquiri Dick's Restaurant in Puerto Vallarta have selected the top international cuisines that are worth traveling long and far for, Spanish, Thai, Japanese, Indian, Italian, etc.
These specific flavors are known for the seasonality of the ingredients, the color combinations and the authentic national flavor you can experience when sampling these regional creations.
The restaurant offers a bi-weekly special dinner menu featuring tastes from all over the world. Executive Chef, Ignacio Uribe, Chef de Cuisine, Hugo Mejia and Sous Chef, Rogelio Garcia have developed each dish with the pure expression of a country's heritage, geography and culture.
This menu runs through April 15, 2018, dinner is served from 5:00 to 11:00 pm. The regular a la carte menu is also available.
Appetizers
• Seared Tuna with Roasted Cumin Mojo Avocado Mousse, Served over Sesame Tuille
• Chilled Broccoli Soup with Deep Fried Polenta Fingers, Mint and Crème Fraîche
• Roasted Mango Salad with Brown Butter Fish Sauce
Main Courses
• Huachinango Filet Served over Pan-Finished Pozole, Cherry Tomatoes and Saffron
• Grilled Rack of Lamb with Poblano Pure, Roasted Cauliflower and Lamb au Jus
• Spaghetti with Shrimp, Baby Spinach and Miso Pesto
Desserts
• Salted Caramel-Chocolate Tart
• Orange Crepes with Vanilla Ice Cream
There are many choices at this restaurant. Reservations are highly recommended and can be made by calling (322) 222-0566. Just a note about the restaurant's reservation policy. All reservations are held for a maximum of 15 minutes. They do not guarantee particular tables, although they make every effort to accommodate requests. This policy is in place to ensure the integrity of all reservations.
Daiquiri Dick's, An Exceptional Experience
Open daily from 9 am to 11 pm, (Closed on Tuesdays from April to October) Daiquiri Dick's offers elegant dining in a relaxed atmosphere for breakfast, lunch or dinner. Visa, MasterCard and Banamex accepted. Reservations are recommended and can be made online at ddpv.com.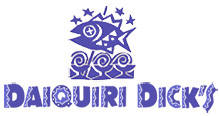 Daiquiri Dick's contemporary design exudes a quiet elegance that invites relaxation, and its tropical location at Olas Altas 314 on Los Muertos Beach offers the perfect atmosphere for enjoying spectacular views of Banderas Bay. For reservations call (322) 222-0566. For more information, visit DDPV.com.
Click HERE to read more about Daiquiri Dick's.