Puerto Vallarta, Mexico - PuRR Project's Spring Garage Sale will be held in Marina Vallarta on Saturday, April 21, 2018 from 9:00 am until 3:00 pm. All proceeds will help keep the 180+ furry residents at Puerto Vallarta's non-profit, no-kill, feline shelter fed and cared for through the long summer months.
Come check out all the goodies at PuRR Project's Spring Garage Sale!
We're still collecting donations, but so far have lots of men's and women's clothing, jewelry, household items, rugs, flat-screen TVs, 6-blade ceiling fan, HP printer/scanner, Suzuki electric keyboard, glassware, books, Cuisinart coffee-maker, artwork, art supplies and much, much more!
You name it... we probably have it! Get there early for the best selection!
Date: Saturday, April 21, 2018
Time: 9:00 am until 3:00 pm
Place: Gaviotas #143 in Marina Vallarta
Driving Directions: Turn into the Marina at the big whale sculpture; take the first right onto Pelicanos; the next right is Gaviotas.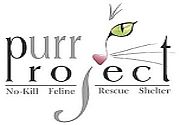 PuRR Project is a Non-Profit shelter in Puerto Vallarta, Mexico that provides homeless cats and kittens a recuperative stay with the ultimate goal to adopt them out to loving homes. All of our residents have been sterilized, vaccinated and are disease free. We accomplish this through our own efforts as well as collaboratively with other animal welfare organizations. Both monetary donations as well as donations of dry cat food are most welcome – and much appreciated. For more information, visit PuRRProject.com or send an email to info(at)PurrProject.com.