Puerto Vallarta, Mexico - Here's what's happening this month at PuRR Project, a non-profit, no-kill feline shelter located just north of Puerto Vallarta, Mexico, that provides homeless cats and kittens a recuperative stay with the ultimate goal of adopting them out to loving homes sterilized, vaccinated and disease free.
THE PuRR NURSERY
We have over two dozen cute kittens in the PuRR Nursery or in foster care that will soon be spayed or neutered and ready for their forever Homes! Mama Babs has finished nursing her four: Benji, Boots, Bandit and Bailey. We have siblings, Nevada, Texas, Dakota and Maine plus their Mama Montana, who is about one year old and also needs a home. Brothers Peter, Parker, Percy, Pepperoni & Poncho were fostered by Cathy Case and are now ready for their debut at Plaza Marina. Keith, Kerry & Kendall are our newest babies. Our regular Friday Adoption Booth at Plaza Marina will continue through the summer, right in front of Comercial Mexicana from 11:00 to 2:00. If you would like more information on adopting a kitty, contact Linda at adopt(at)purrproject.com or check us out on Facebook. All of our adoption candidates have been tested for FIV/Leukemia, dewormed, vaccinated and sterilized.
FEATURED FELINE: MONTANA
Mama Montana is a beautiful Tuxedo who was rescued by a PuRR volunteer in February, along with her five babies, and given a safe place in her own little casita at the shelter. She was a good mother and loved human attention, so had obviously lived in a home at some point... probably tossed out when she became pregnant. She is now spayed, healthy and ready for her Forever Home! Meow!
VIRTUAL ADOPTIONS
A Virtual Adoption is a great way to say "Thank You" to someone, and that's exactly what Debbie Stevens did to thank uncle Ron Harner for his and Clint's generous hospitality on a recent visit to Vallarta. Thanks to Debbie's donation, Skylar was able to have much needed dental surgery. Two other Vitual Adoptions, Gulliver and Brisa, also received dental surgery last month. The surgery is expensive, about $100 USD, though a bargain compared to what it would cost for the same procedure north of the border... around $2,000 dollars! For more information on how YOU can virtually adopt one of our shelter cats, along with photos of candidates, please visit our website.
SPRING GARAGE SALE
We opened the doors to a crowd of shoppers at the PuRR Project Spring Garage Sale on March 21. Most everything was sold and the rest went to Corazón de Niña for their store. We extend a big THANK YOU to everyone who donated the multitude of items for this final fund-raiser of the season... and of course we could not have done it all without the volunteers who collected items, helped set up and worked the event! Watch for the next one in November.
Read more PuRR news at PurrProject.com.
---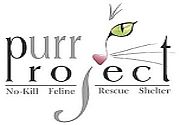 PuRR Project is a Non-Profit shelter in Puerto Vallarta, Mexico that provides homeless cats and kittens a recuperative stay with the ultimate goal to adopt them out to loving homes. All of our residents have been sterilized, vaccinated and are disease free. We accomplish this through our own efforts as well as collaboratively with other animal welfare organizations. Both monetary donations as well as donations of dry cat food are most welcome – and much appreciated. Donations 501(c)(3) tax-deductible in the U.S. For more information, visit
PuRRProject.com
or send an email to
info(at)PurrProject.com.