Puerto Vallarta, Mexico - Mangoes are considered the queen of fruits, and with good reason! They are rich with vitamins and minerals and they caress our taste buds with their psychedelic flavors. The fruit is filled with fiber which will help your body reduce cholesterol; they lower the risk of gastrointestinal cancer and the rich fount of antioxidants help protect you from heart disease.
The antioxidants in mangoes help your eyes to filter the harmful blue light that dampens brains and eyesight. A recent study found that mangoes work better than fiber supplements because their polyphenols reduce inflammation as they change the microbiome of the gut. Eating one mango a day was found to serve as an effective laxative and reduces inflammation.
Mangoes are considered sacred in India where they originate and almost all rituals include mangoes. The famous spiritual master and Yogi Paramahansa Yogananda said; "It is impossible for a Hindu to conceive of a heaven without mangoes". India is the top mango exporter, with Mexico among the top 5. In Mexico, our different varieties of mangoes include: Haden, Kent & Keitt, Ataulfo and Manila.
Try this Healthy Mango Chutney Recipe!
Mango Chutney is a delicious side salsa for your meals! It'll add some spice into your life, and of course, the many benefits of mango to your diet. Use it alongside meat, fish, tofu and rice dishes. Making chutney is a great way to enjoy mangoes during the Winter months when they are not available fresh from the tree.
Ingredients:
Cold pressed Sesame Oil - 1/3 cup
Black Pepper - about 2 teaspoons
Mustard seed - 2 teaspoons
Coriander - 2 teaspoons
Cloves - 2.5 teaspoons
Cinnamon - one whole stick (powdered)
Star anise - 1.5 teaspoon
Nutmeg - 1/4 nut (powdered)
Cumin seed - 3/4 teaspoon
Cardamon pods - 6-8
Ginger - 2 thumbs - spoon peeled and finely chopped
Turmeric - 2 thumbs - lightly peeled and finely chopped
Garlic - 4-5 medium - peeled and finely chopped
Onion - 1 medium - halved and quartered, then sliced 1/8th inch slices
Mangoes - 4 large - cut into 3/4 to 1 inch pieces (less than mouth-sized)
Raisins - 3/4 cup
White vinegar - 1 cup
Stevia - 2-3 pipets from the bottle / or 3 tablespoons of raw honey
Salt - to taste
Instructions:
1. Pour the oil in a pot, bring to smoke point and then drop to medium flame.
2. Add the spices: pepper, mustard seed, coriander, cloves, cinnamon, star anise, nutmeg, cumin seed, and the cardamom pods. Stir for about one minute or until you can smell the aroma. Do not allow to burn.
3. Add the ginger, turmeric and garlic.
4. Add the onion to the mix and stir to combine.
5. It's the mangoes turn, stir them in!
6. Drop some raisins into it.
7. Pour in the vinegar.
8. Time to sweeten it! If you choose to add Stevia, taste after the first two pipets and then consider the third. Do the same if you use honey instead.
9. Add salt to taste.
10. Stew for about 30-45 minutes or so at low heat. Consider the texture of the mangoes, which should be cooked and soft, but still maintains its shape. Cook for added time if necessary.
11. When complete, decant into glass canning jars and let cool... place lids and put in fridge. The chutney will last for at least a year if you keep it in the fridge, but you will eat it before a year is up, that's for sure!
Try this Mango Blueberry-Ginger Salad
This salad gives you just the right boost as it tickles your tongue with three distinct flavors that when combined, synergize each other. Prepare this salad just 30 minutes ahead of your meal or let it sit overnight, covered, in the fridge.
Ingredients:
2 large ripe mangoes
1 cup of fresh or frozen blueberries
3 teaspoons of candied ginger
Instructions:
1. Cube the mango
2. Toss in the blueberries
3. Chop the ginger into tiny little pieces
4. Mix and voilą! You have a sensational treat.
---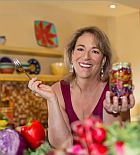 Leslie Korn has lived and worked in Banderas Bay since 1973 conducting research in Traditional Medicine of Mexico. She is a Harvard Medical School and Harvard School of Public Health-educated clinician in clinical practice in Mental Health Nutrition, Integrative Medicine and the prevention of dementia and cognitive decline. She is the author of 7 books including the latest, 'The Good Mood Kitchen.' To learn more about her work, visit DrLeslieKorn.com. She can be reached at lekorn(at)cwis.org.

Click HERE to read more articles by Leslie Korn.